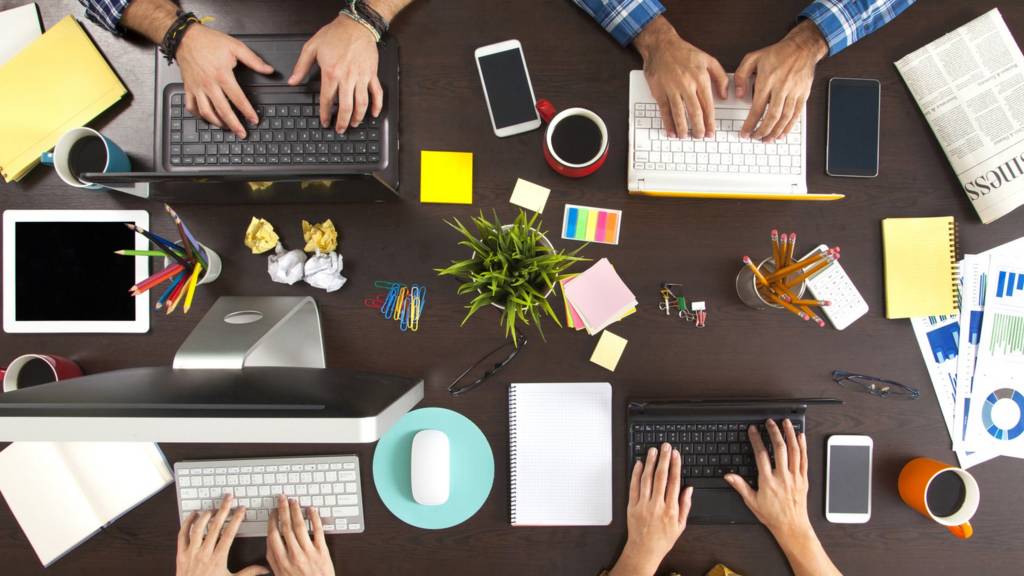 Business Live: Wall Street and European stocks rise but oil prices sink
Summary
UK employment rate remains at a record high
Monsanto accepts $66bn Bayer takeover
EU orders YouTube to pay more for music
Singapore Airlines to hand back A380
Pure Gym to raise £190m in London listing
That's all from the Business Live page for another night. Do join us again tomorrow from 06:00.

Bloomberg: 'UK approves Hinkley deal'

Wall Street slips on rate jitters and oil slide

Wall Street has closed lower after investors worried about future interest rate hikes, and cheaper oil dragged down energy shares.

The Dow Jones industrial average fell 31.98 points, or 0.18%, to 18,034.77, the S&P 500 lost 1.25 points, or 0.06%, falling to 2,125.77 and the Nasdaq Composite gained 18.52 points, or 0.36%, rising to 5,173.77.

Why no air-conditioning on the Tube?

Heatwave: Cranking up the aircon puts pressure on power networks

It's safe to say that EU anti-trust commissioner Margaret Vestager has a lot of support at the European Parliament. Members hailed her as a "superheroine" today for handing US tech giant Apple a €13bn tax bill in Ireland.

For more than one hour during a debate about her 30 August ruling, almost all of the 30 MEPs who took the floor congratulated Vestager.

"When I was young in the 1970s, there was a television series, 'the six million dollar man,'" Dutch politician Cora van Nieuwenhuizen told her. "This superhero has been surpassed by a superheroine, the €13bn commissioner!" 

Philippe Lamberts, the Belgian co-president of the Green Party, also offered effusive praise. "As an ecologist, I am opposed to human cloning, and yet, when I see you, I really want multiple Margaret Vestagers," Lamberts said.

More compliments flowed from politicians like French socialist Pervenche Beres, who made her point raising her iPhone 6. "We are all drugged, intoxicated by these machines. However, we are overjoyed that you have so severely punished this company," Beres said. German ecologist Sven Giegold chimed in, saying: "We should give you a prize."

There was more - much more - but I think you get the picture. 

Brazil's Lula formally charged

BBC South America business correspondent Daniel Gallas writes

Former Brazilian president Luiz Inacio Lula da Silva and his wife Marisa Leticia have been formally charged by prosecutors investigating the massive corruption scandal into state oil Petrobras. 

Lula, as he is known, his wife, and five other people are accused of receiving favours from a company that obtained lucrative Petrobras contracts. Prosecutors say Lula was allegedly gifted a beach side apartment by the construction company OAS. 

A judge still has to accept the charges for Lula to be properly tried.

The former president was also indicted in July on charges of obstructing investigations in the Petrobras probe (known as Lava Jato Operation).

Ford shares are currently down almost 2% in US trading following its warning that new investment will mean a fall in profits. It is, though, promising a return to profit in 2018. The car giant has been holding an investor day.

Facebook chooses New Mexico for data centre

Facebook has picked New Mexico for its new data center over rival US state Utah. The two states have been battling to attract the tech giant. Tax breaks have featured in this fight. 

Local leaders in Utah decided against applying mooted tax break plans as they thought they was too generous. On the other hand the New Mexico town of Los Lunas agreed to give up all property taxes for 30 years in exchange for annual payments from Facebook that start at $50,000. 

There are other tax breaks being granted, too, on billions of dollars in computer equipment over time. 

Petrobras scandal - first charges against Lula

Reuters is reporting that the first charges against former Brazilian president Lula are being brought in the Petrobras oil giant bribery affair. 

Ford plans full small-car move to Mexico 'within three years'

More from Ford's investor day

Ford's chief Mark Fields says all the company's small-car production should have moved to lower-cost Mexico within two to three years. 

Earlier this year, Ford said it would invest $1.6bn in Mexico for small-car production to start in 2018. 

It's not gone down well with US presidential hopeful Donald Trump, who criticised Ford for moving US jobs to Mexico.

Mr Fields said Ford must remain competitive.

Ford profits to fall as car giant ramps up investment

US car giant Ford says that its pre-tax profit will fall for a second straight year in 2017 as the company invests heavily in electric and driverless vehicles. But the company said, during an investor day presentation, that earnings would improve again in 2018 on plans to achieve $3bn in annual savings to help offset design and regulatory costs.

Ford estimates that 2016 results will be $10.2bn, 5.5% lower than last year's record $10.8bn.

Post Office strike

BBC personal finance correspondent tweets:

African airline rejects 'disparaging and uninformed claims'

Nigeria's largest airline Arik Air says it has resumed services after a 24-hour suspension that stranded thousands of passengers across Africa. The carrier also denied speculation that it had not paid its fuel bills.

Arik said Tuesday's disruption was linked to a delay in getting insurance renewal during the long weekend holidays linked to the Muslim feast of Eid al-Adha.

"Members of the public and our customers are advised to discountenance the disparaging allegations, unsubstantiated and uninformed claims about the airline's inability to meet its financial obligations to aviation fuel marketers," a statement said.

"While the current scarcity of aviation fuel has impacted on the operations of airlines in the country, Arik Air is in good standing with its fuel suppliers and has been meeting its obligations to them."

Mining shares push FTSE 100 higher

The FTSE 100 closed slightly higher, breaking a three-day losing run, as firmer mining stocks enabled the market to recover some ground. The blue-chip index finished 0.12% up at 6,673.3 points, near a one-month low but still up around 7% since the start of 2016.

Miners were the best performers, with the UK mining index rising 1.6%. Anglo American, Glencore and Antofagasta gained 1.6% to 2.5%. 

Irish government investigates biggest ever NI property deal

The Irish government has said it intends to set up an investigation into Northern Ireland's biggest ever property deal.

Nama, the Irish state asset agency, sold the property loan portfolio to a US investment fund for £1.2bn in 2014.

There have been a series of allegations about impropriety in the sales process.

The Dublin government will discuss options with opposition parties before deciding on the format for an inquiry.

You can read the full story here.

Train trouble

The Press Association's Industrial Correspondent tweets:

Ryanair cancels flights over French strike

Almost 100 flights have been cancelled as French air traffic controllers go on strike again. Ryanair said it was "forced" to cancel 22 flights on Wednesday night and 72 on Thursday as a result of the 14th French ATC strike this year.

The Dublin-based carrier warned passengers that further delays were likely. 

Robin Kiely, head of communications at the airline, said: "It's reprehensible that Europe's consumers repeatedly have their holiday and travel plans disrupted or cancelled by the selfish actions of ATC unions, who use strikes as a first weapon rather than a last resort.

"This French ATC strike will impact hundreds of thousands of European consumers and throw their travel plans into chaos once more. It's high time that the European Commission takes action to prevent these repeated ATC strikes from continuously disrupting the travel plans of millions of Europe's citizens and their families." 

FT motor industry correspondent Peter Campbell tweets:

Alstom protests intensify

Unions at French trainmaker Alstom have called a strike for 27 September to protest at plans to stop production at the company's Belfort plant in eastern France.

President Francois Hollande has urged Alstom, in which the state holds a 20% stake, not to go ahead with the plans, which the company says is necessary because of a dearth of orders.

The government has given itself 10 days to try to come up with alternatives and has suggested that orders in the pipeline could be brought forward.