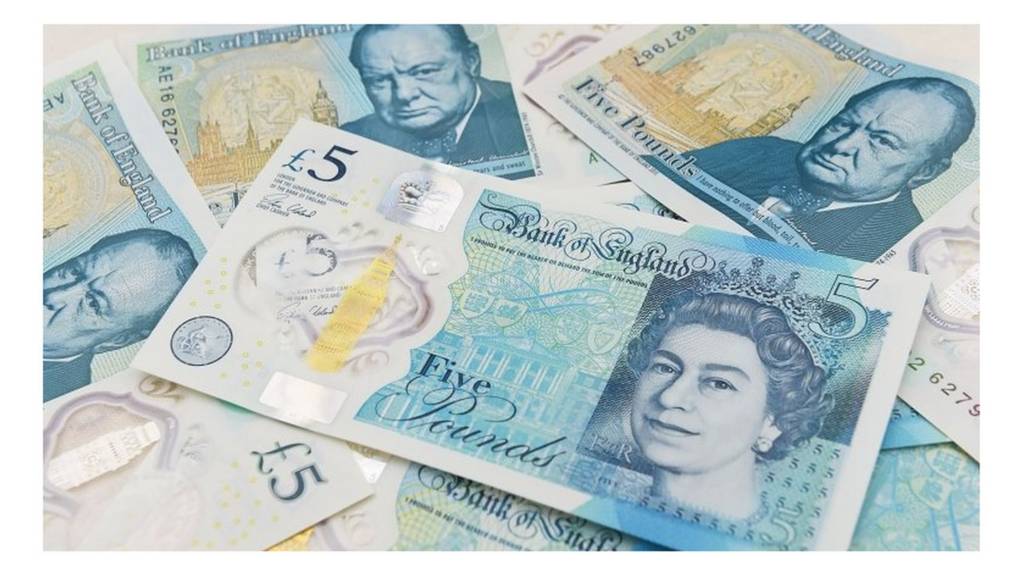 Business Live: Look who's making a comeback
Summary
FTSE 100 sees late fall to close 0.53% down
Inflation steady at 0.6% in August
House prices growth slows to 8.3%
New £5 polymer note is released by the Bank of England
JD Sports reports 73% rise in profits
That's all from the livepage for another day. We're back from 6am tomorrow.

Night, night.

Wall Street's main markets shed more than 1% on lower oil prices and the uncertainty over US monetary policy. Tuesday marked the third straight day that major US indices experienced moves of 1% or more.

Analysts attributed the swings to contradictory signals from US Federal Reserve officials on the likelihood of an imminent interest rate hike. "It's been a yo-yo the last few days," said Bill Lynch, director of investments at Hinsdale Associates.

He added: "We're going to be in a period between now and the Fed's meeting next week where there could be increased volatility."

At the closing bell, the Dow Jones was at 18,066.89, down 1.4%. The broad-based S&P 500 dropped 1.5% to 2,127.04, while the Nasdaq shed 1.1% to 5,155.25. 

Weight Watchers departure hits shares

Weight Watchers International shares slumped almost 7% after the company said chief executive James Chambers will step down at the end of the month.

Weight Watchers share price more than doubled last year after the company announced an alliance with Oprah Winfrey, who bought a 10% stake and joined the board of directors. 

Weight Watchers said Winfrey will be part of the committee that names its next CEO. 

Brazil announces more sell-offs

BBC South America business correspondent Daniel Gallas writes:

Brazil's government has announced a fresh round of privatisations and tenders with the aim of raising $7bn (£5.4bn).

Brazil will privatise four airports and offer a wide range of public works, from new roads and railroads to mining, oil and gas projects.

Most tenders will happen between 2017 and 2018. They are part of an initiative called "Crescer" ("Grow") launched by Brazil's new president, Michel Temer, which aims to increase private investment in the country, as the government is facing serious budget problems.

150 staff redeployed to sort out tax credit mess

UK taxman says Concentrix's contract not being renewed

HMRC chief executive Jon Thompson says tax credit claimants deserve a high level of service. The firm has been criticised for its checks on claims.

"We want to reassure customers who have had their tax credits stopped that we will prioritise their cases, and make sure that they are processed as quickly as possible," says in a statement.

"While it's right that we ensure that tax credits customers only receive the money to which they're entitled, it is vital that those customers have a high level of service.

"That's why we have decided not to extend our contract with Concentrix and HMRC is redeploying 150 staff so that customers can get through to advisers and resolve any issues about their claim," Mr Thompson said.

The existing contract runs to May 2017, and is worth £55m- £75m over three years on a payment by results basis.

Tax firm losses HMRC contract

HMRC is not renewing Concentrix's contract for the handling of tax credit claims. There have been calls for the Government to investigate and act on concerns about the company.

MP Frank Field said: "Concentrix's reign of terror is drawing to a close. Again the Government has acted decisively in protecting vulnerable Britain. This holds out huge prospects and, for some exploiters, horror, in the near future."

BBC chair Fairhead stands down

Rona Fairhead is to stand down as chairwoman of the BBC Trust, it has just been announced. She said in a statement: "I took on leadership of the Trust to help stabilise, strengthen and develop the BBC following a very difficult period in its history and through Charter Review. I was always clear that I was willing to serve for four years, after which I would continue my career in the private sector."

France tries to avert Belfort shutdown

The French government is trying to avert engineering firm Alstom's planned shutdown of its Belfort train plant.

"Alstom confirms it is engaged in talks with the French government over the future of its Belfort site," the company said.

Alstom makes France's high-speed TGV trains and is 20% owned by the state.

US reports a $107bn budget deficit in August

The US government has reported a $107bn budget deficit in August. This is slightly lower than the July deficit.

The total deficit, with one month to go in the budget year, totals $620.8bn, up 17.1% from the same period a year ago.

Who needs a steering wheel anyway?

Anti-doping agency 'hit by Russian hackers'

The World Anti-Doping Agency has said Russian hackers breached its database and published confidential athlete records, the second attack on the organisation since early August.

Wada said a Russian hacker group called Tsar Team, also known as Fancy Bear, had been responsible for the hack.

"Wada deeply regrets this situation and is very conscious of the threat that it represents to athletes whose confidential information has been divulged through this criminal act," Wada director general Olivier Niggli said.

With the news that Tesco is to start selling revamped Sindy dolls, here's a handy timeline:

September 1963 - Sindy is born. Exeter company Pedigree Toys launch the doll with a range of clothes and accessories to match the fashions of the time, including a Weekender outfit
1966 - Sindy is joined by little sister Patch
1971 - A remodelled Sindy hits the shops
1975 - The Sindy styling head is introduced with hair that can be washed, set and shampooed. In the same year, a fully-jointed active body, dressed as a ballet dancer, is launched
1981 - Things are looking up. Sindy now has a three-floor mansion with roof garden and outdoor lift

1986 - A Sindy doll with a new face and different smile hits the shops
1991 - Sindy changes again, modelled on 90's pop stars
2005 - The launch of Sindy Petite makes her the world's smallest fashion doll
2007 - The last 11-inch Sindy is launched
2009 - With the demise of Woolworths, Sindy disappears from High Street shops

US and China head for rice row over subsidies

The US and China are heading for another trade spat.

President Barack Obama has launched legal action at the World Trade Organisation against "unfair" Chinese rice, wheat and corn subsidies 

The US alleges that China handed out $100bn in "market price support" for the grains, above levels agreed at the Geneva-based WTO.

"When other countries flout the rules to try and undercut American workers and farmers, we hold them accountable," Obama said in a statement announcing the action.

China is the world's largest producer of wheat and rice, holding significant sway over world markets. Rice, in particular, is a food staple, with important cultural and political significance.

"This is the 14th WTO case we've launched against China since I took office," Obama said. "And we've won every case that's been decided." 

Draghi: a champion of the poor

The Brexit fall-out and Donald Trump's protectionist rhetoric continue to worry those who think the tide may be turning against globalisation and trade liberalisation.

This morning, IMF chief Christine Lagarde warned about the "side effects" of globalisation and the need to help those not sharing in prosperity.

Now, another member of the economic elite has said that the thirst for wealth and power risks leaving people behind.

Mario Draghi, head of the European Central Bank, says in a speech: "We must devote more attention to the redistributive aspects of integration. I do not think there will be significant progress in terms of opening up markets and competition if Europe does not listen to the demands of those left behind by a society built on the pursuit of wealth and power." 

If the single market is left unfinished and fails to safeguard freedom and fairness, national borders will ultimately be restored, a danger to the open society, Draghi warns. 

BP workers 'scared to help' with oil disaster movie

Copyright: Lionsgate/Summit Entertainment

Workers for oil giant BP were "scared" to co-operate with the makers of the new Deepwater Horizon disaster movie, the film's director has claimed to the Press Association.

Mark Wahlberg, Kurt Russell and Kate Hudson star in the film about the 2010 oil-rig explosion in the Gulf of Mexico which cost 11 lives and led to the biggest oil spill in US history. 

Director Peter Berg told PA he was committed to filming in south Louisiana, the area of the disaster, but faced a "fairly substantial amount of resistance". 

He said: "BP is such a huge company and the oil industry in general, but BP in particular, has a lot of power in that part of the country. We were met by a fairly substantial amount of resistance from people who are all employed by BP who were scared to give us too much co-operation."

The FTSE 100 failed to hold on to afternoon gains, ending 0.53% down at 6,665.6 points. Gainers were a mixed bag. Carnival, LSE, Worldpay and Coca-Cola HBC rose between 1.2% and 2.4%. Anglo American, down 4.36%, was the main loser. The FTSE 250 lost 0.38% to 17,662.3 points.

The inflation monster is stirring

Kamal Ahmed

Economics editor

Ronald Reagan once said inflation was as "frightening as an armed robber".

The marauding criminal ate into savings, eroded incomes and increased the cost of everything from the weekly shop to filling up the car.

It made a widow of the prudent.

Over the next year inflationary pressures are likely to increase.

The great commodity price deflation will start to unwind as the major declines in prices start to fall out of the annual statistics.

Gas and oil prices are expected to increase - as is the cost of food, where import price inflation is running at over 3%.

The danger for politicians is a simple one.

The pound is still falling after figures showed inflation was unchanged in August. Sterling is down about 1% against the dollar and euro.

Economists had expected inflation to rise slightly due to rising import costs and the Bank of England lowering interest rates last month.

Today's figures are "likely to strengthen the Bank's belief that it still has room for manoeuvre to stimulate growth", said Hargreaves Lansdown analyst Chris Saint.

That could mean another cut in interest rates, he said, and the markets are betting that would push the pound down further.    

What do you get when you combine low oil prices and low shipping rates? Oil that spends quite a lot of time at sea...

The Sindy doll is back on sale in the UK after an almost 10-year absence - and with a healthy new body shape. 

The doll has been revamped exclusively by Tesco, which has licensed the brand from Exeter-based owner and creator Pedigree Toys. 

Sindy claimed 80% of the fashion doll market at her peak in 1985 after she was launched as a more demure rival to the glamorous American Barbie.

She is now seven inches taller, but her once long and skinny legs and arms have been remodelled into a more realistic body shape.

Here's what Tesco's head toy buyer Dawn Lavalette says: "Sindy stood out from other dolls and her captivating, angelic look made her popular all over the world.

"Now we've restored her beautiful and unique look and worked with our own top fashion designers to come up with a dazzling new range of clothes.

"We also think that many mums out there who were fans of the original doll themselves will secretly want one too."