Franz Kafka: Manuscripts, drawings and personal letters go online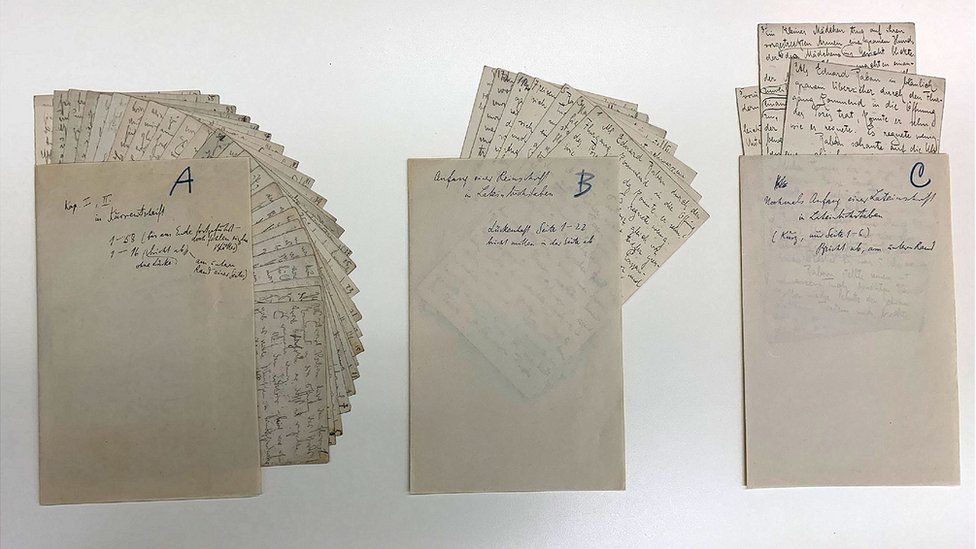 A collection of documents by the author Franz Kafka is now publicly available online, following intensive restoration, cataloguing and digitisation.
The digitised collection includes three draft versions of Kafka's story Wedding Preparations in the Country, a notebook in which he practiced Hebrew, and hundreds of personal letters, sketches and travel journals.
Kafka discovered his talent for sketching in his first year of university.
His drawings are primarily grotesque caricatures of people he met, or sketches of himself.
But Brod refused and published them instead, leading to Kafka becoming recognised as one of the greatest writers of the 20th Century.
After Brod's death in 1968, the Kafka collection disappeared and the National Library was involved in a "Kafkaesque" 11-year fight to bring the collection together.
Investigators hunted for the documents in Germany, Switzerland, and in bank vaults in Israel.
Without his close friend Max Brod, Kafka's work would almost certainly have faded into oblivion.
Kafka died in 1924, aged 41, after a seven year battle with tuberculosis.
About 15 years later Brod, also a Czech Jewish writer, was forced to flee Nazi-occupied Czechoslovakia for Tel Aviv in British Mandate Palestine and what was to become Israel.
He carried Kafka's papers with him in a suitcase and later went on to publish many of them - helping to posthumously cement his friend's place in history.
After Brod died, he left the collection to his secretary Esther Hoffe and asked her to ensure that they reached the National Library.
However, she held on to the papers until her own death in 2007, storing some of them in her apartment in Tel Aviv, and others in vaults in Israel and Switzerland.
In 1988, she sold the manuscript of The Trial for $2m (£1.4m).
When Hoffe died, the National Library appealed to her daughters to honour Brod's last wishes and give them the remaining manuscripts.
However, their request was refused and legal proceedings began the following year.
Eventually, Israel's Supreme Court sided with the library and ordered the papers to be handed over to them.
Investigators were allowed to look in Hoffe's apartment in Tel Aviv, where they found it had been taken over by cats which had reportedly caused some damage to the documents.
"The Franz Kafka papers will now join millions of other items we have brought online in recent years as part of our efforts to preserve and pass down cultural assets to future generations," said Oren Weinberg, director of the National Library of Israel.
"After many years in which these papers were inaccessible to the public, we are proud to now offer free open access to them for scholars and millions of Kafka fans in Israel and across the globe."
All images subject to copyright