Prince Philip: Death of the Duke of Edinburgh announced
Buckingham Palace announced the death of Prince Philip, Queen Elizabeth II's husband, at Windsor Castle on Friday.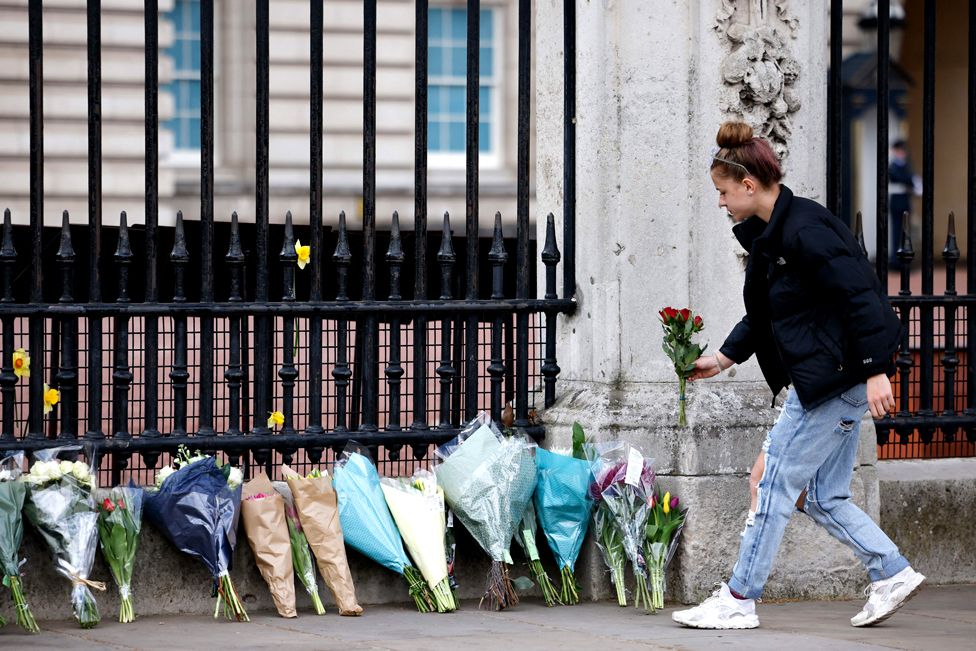 The duke, aged 99, was the longest-serving consort in British history.
He had returned to Windsor Castle on 16 March after spending a month in hospital.
Here are pictures from the day of the announcement.
In a statement shortly after midday, the palace said: "His Royal Highness passed away peacefully this morning at Windsor Castle."
A notice was posted on the gates of Buckingham Palace following the announcement.
The flag at Buckingham Palace was lowered to half-mast.
People placed flowers outside the palace with messages of condolence.
The government urged the public not to gather or leave tributes at royal residences amid the coronavirus pandemic.
The Royal Family has asked people to consider making a donation to a charity instead of leaving flowers in memory of the duke.
In further tribute to the duke, Westminster Abbey rang its tenor bell once every 60 seconds, 99 times, from 18:00 BST on Friday evening.
Flowers were also placed outside Windsor Castle, where the duke spent his last weeks after being discharged from hospital.
In Edinburgh, the flag at the Palace of Holyroodhouse was lowered to half-mast, as flowers began to be placed outside.
A notice announcing the death of Prince Philip was attached to the gates.
Racegoers and riders observed a two-minute silence for Prince Philip at Aintree Racecourse in Liverpool.
Players and staff at Lord's Cricket Ground in London also held a two-minute silence, with flags lowered to half-mast.
In London, a tribute was displayed on the screen at Piccadilly Circus.
The palace said further announcements would be made "in due course".
All pictures are subject to copyright.