Egypt's revolution: 'The roar of the crowd shook my feet'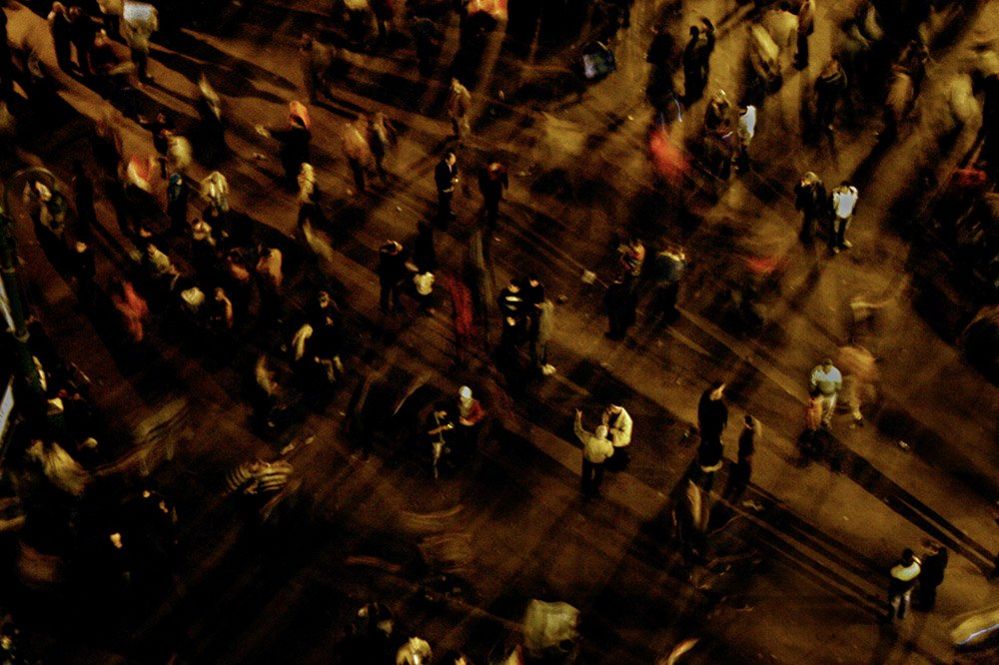 Ten years ago, Cairo's central Tahrir Square was the focal point of protest against then Egyptian President Hosni Mubarak and his government. Photographer Laura El-Tantawy was one of those who documented the demonstrations that grew in size and culminated with clashes between pro- and anti-government demonstrators and swept Mubarak from power.
El-Tantawy was in Italy when the protests began in the Egyptian capital but was determined to be there despite knowing the dangers she would face.
"I was scared to be there given the reports I was reading - power outages, the internet being cut off across the entire country, snipers on rooftops shooting protesters and targeting photographers - and media representatives in particular."
But, in the end, El-Tantawy felt it was a moment in history she had to witness for herself.
"Watching the news, I felt that I was missing out on a historical moment.
"I had already been visually documenting Egypt since 2005. There was no question I had to be in Tahrir Square to document this moment as part of my journey."
Once in the square, El-Tantawy trusted her own instincts to keep her safe, though it was when coming and going from the square that the dangers were higher as there were groups who would steal cameras and attack journalists.
"I made this photo on 2 February, 2011," says El-Tantawy.
"This was not a good day in Tahrir Square. It became widely known as the Horse and Camel Battle, when pro-Mubarak supporters wielding swords and whips rode horses and camels to the square and attacked protesters.
"It was a painful and shocking day. I was in the alleys behind the square photographing the wounded."
It became one of the most notorious incidents of the anti-Mubarak uprising and left nearly a dozen people dead.
"I always hid my camera when I was leaving Tahrir," says El-Tantawy.
"For a brief period during the 18 days I was accompanied by a videographer and documentary film-maker, otherwise I was always there on my own.
"The atmosphere changed every day, but I can say that Tahrir Square felt like a utopia - the kind of Egypt we always knew could be.
"It was a place where race, religion, and social class did not matter. Everyone was there for one cause. The sense of unity in that place transcended any potential differences."
El-Tantawy made this picture on 11 February 2011, the day President Mubarak stepped down.
"It was one of the most overwhelming moments for me as a photographer and one of the most loaded emotionally in Tahrir Square.
"I was trying to capture the emotion of the crowd, the weight of this moment historically, all while trying to celebrate it as an Egyptian. I remember sounds, colours and smells. The sky was lit with fireworks and the roar of the crowds shook the ground under my feet.
"What really stayed with me about Tahrir Square is the value of the moment.
"Egyptians are a sentimental people - we look back more than we look forward by nature of our ancient civilisation and the legacy our Ancient Egyptian ancestors left for us. In Liberation [Tahrir] Square people were looking out to the future with hopes and dreams.
"This was a new feeling for me in Egypt - to look forward rather than behind us."
For many, of course, the square holds painful memories. On 22 February 2012 , El-Tantawy was among many journalists gathered outside the police academy in New Cairo awaiting the announcement as to whether to charge former President Mubarak and his minister of interior at the time, Habib al-Adly with giving orders to shoot and kill protesters.
"On this day I met Safeya Abdelaziz Mohamed," says El-Tantawy.
"Her son was among the many people who died during the revolution. There was a sense of acceptance and sadness in her face.
"She cried when the court announced its verdict to clear both Mubarak and Adly."
A year later, El-Tantawy took this in June 2013, once again at a protest in Tahrir Square.
"At the time there was a sentiment in the media that women were not permitted to take part in the protests in Tahrir Square because of the influence of the Muslim Brotherhood," she says of the Islamist movement whose candidate had won the first post-Mubarak presidential elections the year before.
"This was never my experience in Tahrir Square, where I saw women fight shoulder-to-shoulder on the front lines as well as treating the wounded in makeshift clinics in back alleys. This was an empowering moment for me as a woman and a young Egyptian.
"I believe one of the legacies of the revolution has been the imprint it left on young Egyptian women to take control of their fate and fight traditional views and practices that are to their own detriment, such as sexual harassment and religious conservatism."
Events in 2011 were an important moment in the history of Egypt, but also a defining one for El-Tantawy.
"As a young Egyptian, Tahrir felt like I was documenting my generation's story - our struggle for a sense of dignity and respect.
"It also affirmed my passion for photography and telling people stories - stories about home, belonging, dignity and empathy. I'm inspired by people and feel privileged to have documented this chapter in my country's history."
Since then El-Tantawy has continued to create stories about land and identity, shaped by her own experiences, and living between two homes, one in the UK, the other in Egypt.
She has recently published a 10-year anniversary edition of her book In the Shadow of the Pyramids which includes pictures made between 2005 and 2014.
"In this edition the images are secondary to the dates during which they were captured," she says.
"This is unusual in a photography book. It was important for me to uphold the historical prominence of the imagery while meditating on the changing memory of the revolution.
"Time and context have changed the reading of the images."