Thai cave: Artists' huge mural honours rescue heroes
A giant mural entitled The Heroes has been created in Chiang Rai, Thailand, to honour the rescue operation that saved 12 young footballers and their coach, who were trapped in a cave for over a fortnight.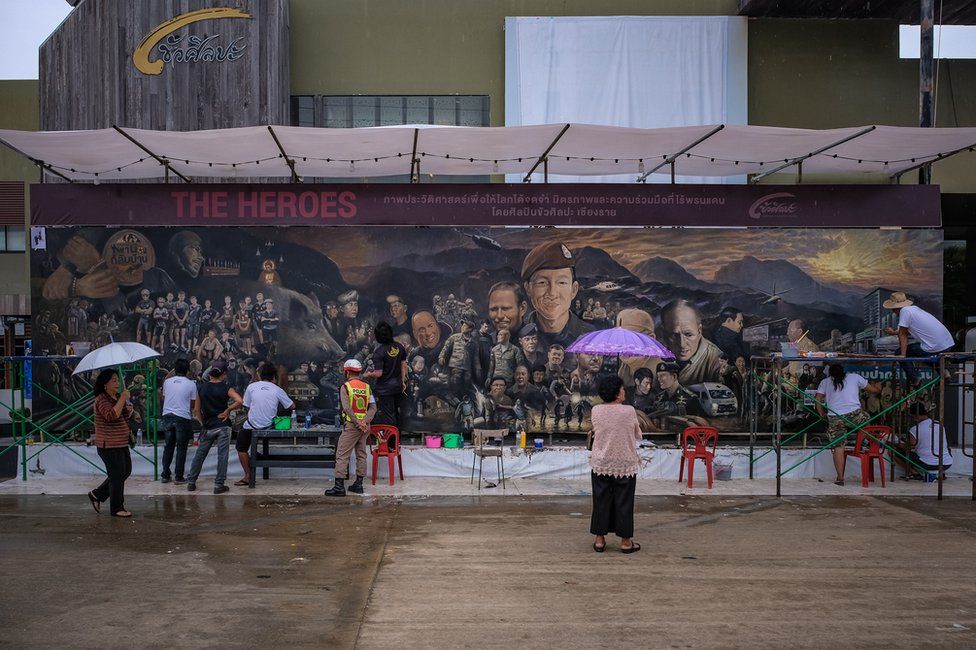 The artwork was created by a team of local artists, and prominently features Saman Gunan (seen below), the former Thai Navy SEAL diver who died helping the rescue operation to save the Wild Boars soccer team.
The mural is being displayed at Art Bridge, a private gallery in northern Thailand, as part of an exhibition dedicated to the successful rescue operation.
Also featured is a statue of Saman Gunan, with the 12 boys and their football coach represented by a wild boar and piglets at his feet.
The boys and their football coach became trapped in the Tham Luang cave on 23 June, and were discovered by rescue divers 4km (2.5 miles) from the cave mouth on 2 July. The last of them were finally rescued on 10 July.
The mural features some of the rescuers who played major roles in getting the trapped team out alive, including British diver Rick Stanton, seen below.
Stanton and fellow British diver John Volanthen (below), were first to reach the boys and their coach after they had been trapped for nine days.
Mr Stanton told reporters: "This was completely uncharted, unprecedented territory and nothing like this has been done. So, of course there were doubts."
On his return to the UK, Mr Volanthen told reporters: "We were very relieved that they were all alive but I think at that point we realised the enormity of the situation and that's perhaps why it took a while to get them all out."
British diver Vern Unsworth, below, also features on the mural.
Fortunately for the rescue effort, Mr Unsworth had explored the Tham Luang cave complex extensively, and lives nearby.
Another British diver on the mural (below) is Robert Charles Harper, who has been caving since 1968.
Chiang Rai Governor Narongsak Osotthanakorn, the head of the rescue mission, is also featured - complete with a distinctive cap.
Addressing the future of the cave complex, Mr Narongsak said: "The area will become a living museum, to show how the operation unfolded.
"An interactive database will be set up. It will become another major attraction for Thailand."