The Photographic Life of Bill Jay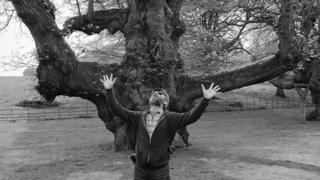 A new film, Do Not Bend: The Photographic Life of Bill Jay, is about to premiere in Bristol. It explores the life of Bill Jay, one of the most influential figures in British photography. Grant Scott, lecturer and writer and one of the film's editors and producers explains why Jay is such an important figure.
To suggest that Bill Jay was the spark that lit the fire beneath British photography in the late 1960s and helped form the idea of photography as contemporary practice in the 1970s is no exaggeration. His seminal lecture at Manchester Polytechnic in the autumn of 1971 certainly did that for the now established then student photographers Martin Parr, Daniel Meadows and Brian Griffin.
Jay's promotion of the work of Tony Ray Jones, saving of the Francis Frith collection, creation of the Photo Study Centre at the Institute of Contemporary Arts (ICA) in London and involvement in creating the first photographic gallery - the Do Not Bend Gallery - among so many other initiatives cannot be easily dismissed when assessing the photographic landscape of 1970s Britain.
Bill Jay said of himself, in an editor's letter in Creative Camera in 1969: "The fate of photography in this country is at stake. And that is more important than my opinions, or your opinions of me."
Yet as of a couple of years ago I had only the vaguest knowledge of his work and impact.
My own opinion of him came last year when I sat down to read his book, Occam's Razor. It was like someone had switched on a very bright light. Jay's way of writing and beliefs concerning photography were an echo of my own.
What happened next I have no explanation for, but I instantly decided that I would make a film about Bill Jay. I knew nothing about him, his life or his death. All I knew was that I would make a film.
The journey to discover Bill Jay had begun. And during the following months of reading his books and articles and talking to everyone and anyone I could find who had known him, I was presented with a story filled with intrigue, missing links, beliefs, misunderstandings, memories and perhaps most importantly a sense of commitment, passion and enthusiasm for the subject he devoted his life to, that of photography.
Evangelical in his zeal in sharing his passion for the medium and a mercurial force of energy when it came to his teaching and lecturing, he ignited the fire beneath British photography in 1968 with his editorship of Creative Camera magazine and fanned its flames through his self-created Album magazine.
He was the first director of photography at the ICA, in 1970, and an intrepid visiting speaker and arranger of talks at the Royal Photographic Society, local camera clubs and polytechnics across the land before he decamped to the University of New Mexico and on to Arizona State University for a life of academia.
His lectures and teaching created a generation of American photographers, teachers, curators and publishers. While teaching, he wrote 20 books and more than 400 articles on and about his beloved medium. He was addicted to coffee and cigarettes, built cabins in the woods, had a fondness for guns, lived in a nudist colony and was bitten by a rattlesnake.
And so my co-producer and director, Tim Pellatt, and I set out to make a film of his life.
Each time I spoke to someone about Bill Jay another piece in the jigsaw of his life would fall into place or as was more often the case another question for me to answer would be posed. Perhaps the most constant of these questions was just why was he like he was?
What drove his passion and his dedication to the medium of photography? And the answer to that, which we believe we have found, is what takes our film away from being focused solely on photography and perhaps is the one thing that successful films have, a universal connection with all of our personal experiences.
A controversial figure until the end of his life, Bill Jay has provided us with a story to tell - but his is not the only story yet to be explored.
Now is the time to find and tell the stories that interest and connect with you. I can only encourage you to turn those stories into films and share them. A lack of budget does not have to be an issue. Today with filmmaking, anything is possible.
The film, Do Not Bend: The Photographic Life of Bill Jay, premieres at the Martin Parr Foundation on Friday, 20 April.
Further screenings with panel discussions featuring Grant Scott and Tim Pellatt will take place in collaboration with the Royal Photographic Society on 8 May at The Frontline Club and the Oriel Colwyn Gallery on 11 May, where an exhibition of Jay's work will be on show until 30 June.
The Scottish premiere of the film will take place in collaboration with Stills, Edinburgh, Street Level, Glasgow and Edinburgh Napier University in September.
You can find out more about the film at www.donotbendfilm.com.
You can follow Grant on Twitter and on Instagram @UNofPhoto.