In pictures: International Volunteer Day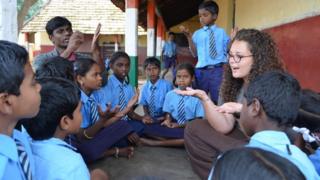 To mark International Volunteer Day on 5 December the development charity VSO ran a photo competition for its youth volunteering programme, International Citizen Service (ICS) for 18-25 year olds. Here we present a selection of the finalists along with the thoughts of the volunteers.
Catherine Nyaumwe Munyarari, 19, volunteered on an ICS Entrepreneur programme with Balloon Ventures in Mbale, Uganda
"My lecturer at university asked us all one day 'What kind of world do you want to live in?'. It was that which made me want to volunteer. I wanted to be part of the generation that would change the world for the better, big or small. I knew from that day I wanted to be a leader in Africa, my motherland.
"My team was teaching business skills to Ugandan entrepreneurs, on anything from how to start up a stationery shop to innovating a clothes store. When you meet someone who has been running a business for three to four years and has never made a record of their sales, you can make a sustainable difference. We taught skills that allowed entrepreneurs to understand their businesses and we saw them use and interpret them in their own ways.
"Being born in Zimbabwe and growing up in the UK, I never knew the impact I could have in Africa. I, like many, had read so many articles on poverty in Africa and had seen the images of the starving children. It was through volunteering that I saw what my purpose was in this world. I knew that I wanted to change the continent of Africa for the better.
"Young people, we are the solution, not the problem. Now, more than ever in the world, young people are needed at the forefront of decisions about our future. We must get involved in building the world around us. It does not matter what background you come from, everyone has potential and the power to change the world."
Esme Bamber, 19, volunteer with Tearfund in Bangladesh
"As young people have no voice in Bangladesh and have no rights, we wanted to empower them. The mural showed how a village with young people can become more disaster resilient. To involve the young people in the work we got them to add their hand prints to a tree. They were beaming and the day was so beautiful. The photo shows the joy, happiness and relationship that we built with these young people."
"The best thing for me about volunteering was definitely the relationships I built, not just with the team, but also with the host family I lived with and the rest of the community."
Ruth Mclennan, 26, volunteered with Raleigh ICS in India on water, sanitation and health project
"I worked as a team leader in charge of a multi-cultural team of UK and Indian volunteers. We conducted education sessions, awareness days and cultural events. My team also worked with the local council and organised the construction of around 80 toilets, one for each household in the village.
"By the end of the ICS project we had achieved the changes we longed to see, for the people we had grown to love in our village. Then it started happening: we began to observe small and beautiful changes in the villagers' daily habits, people were washing their hands and newly-built toilets were clean and being used.
"We had a huge impact - the sense of achievement in those moments is still hard for me to describe."
Kieron Gray, 20, volunteered on an ICS Entrepreneur programme with Raleigh International in Tanzania
"Before volunteering, I was working full-time in a supermarket. I had no future prospects and no real goals for my life. Through the ICS Entrepreneur programme, I was inspired to revisit my passion for business.
"I helped young people in Tanzania to see possibilities of starting a business in the dairy industry, so they could become self-employed. This knowledge could then be passed on to their children.
"I don't believe that any individual in our group made a difference but, as a group, we made a phenomenal difference. Watching the entrepreneurs grow from living in poverty and unsure of how to change their lives, to all of them now in possession of loans and starting their own businesses was truly inspirational.
"The main thing I have learned about my ICS experience is that anything is possible. Before applying, I was not very motivated about anything but I have always dreamed of going to university in the United States which I never thought possible. I have now applied for university in the UK with one year studying in New York and Miami."
Luxsiya Sivakumar, 21, volunteered with Raleigh ICS in the rural community of Kottadai in Tamil Nadu on a water, sanitation and health project
"My team worked with the local community to change how people thought about health and environmental issues, as well as constructing basic facilities such as toilets. We were worried that the things we had built for the village would not be used once we had left but, a couple of months later, we received photos from the villagers of them putting resources to use.
"An important part of my volunteering experience was doing community surveys so we knew exactly what the village wanted and needed. It gave the community a chance to have their voice heard in a place where political leaders and other groups had let them down.
"The most memorable moments of my experience were working with national volunteers - their passion for life always shone through - and also how enthusiastic the children in the community were. We ran toothbrush club every morning at 7.30am but the kids were so eager they'd be knocking on our door every morning at 7am.
"I think volunteering has changed my life in many ways. Just a conversation with someone could change their life forever and that's what is great about volunteering - the smallest thing can help in our drive towards a greener, safer, and happier world."
Jon Hooper, 26, volunteered with VSO ICS in Tanzania
"My team worked with the Equip-T project, which was looking at supporting teacher training colleges. Our aim was to encourage students to think in new ways, use local resources to create teaching aids and understand the benefit of running extracurricular clubs. By the end of the project, the students were able to successfully run clubs and were able to use teaching aids in order to deliver their own sessions in academic clubs.
"The most memorable moment of my experience was spending time in my host home. It allowed me to grow in ways which I had not expected and my host family taught me a new way of thinking. To fully immerse myself in a community which I was alien to has been life-changing.
"If given an opportunity to experience another culture and make a positive contribution to a community, my advice would be to not hold yourself back. To receive the great benefits of volunteering you have to put yourself out there.
"Young volunteers are perfect for 'planting seeds' in a community. Those seeds are unlikely to grow whilst on a placement, but if those seeds are looked after and people keep tending to them, they can create something really beautiful: lasting change."