Amateur photographers capture golden age of motor racing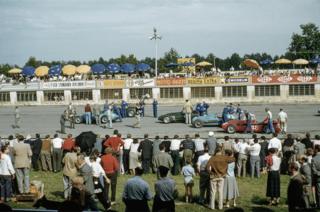 Gasoline and Magic features photographs by motor racing fans.
In 1968, it was all hands on deck as the start line was painted at Connecticut's Lime Rock Park.
In 1959, the Formula Libre event saw professionals and amateurs battling it out in a wide variety of cars.
The Ferrari Dino 206S of Giampiero Biscaldi and Mario Casoni is seen at the Targa Floria in 1966.
Colin Vandervell and his Brabham BT35 is seen in the paddock at Castle Combe during the 1971 F3 championship.
At Watkins Glen, British driver James Hunt enjoys an ice lolly ahead of the Grand Prix, which he won on the way to claiming the 1976 F1 World Championship for McLaren.
Erwin Sommerhalder is behind the wheel of his Maserati at the start line of the Mitholz-Kandersteg Hill Climb in 1959.
Refuelling was a simpler affair in 1966. Here, Denny Hulme parks his Brabham-Repco BT20 before the British Grand Prix at Brands Hatch. The New Zealand driver went on to finish second behind team-mate Jack Brabham, who won the championship that year.
Jackie Stewart and Jochen Rindt are pictured ahead of the race in Mexico City in 1969. Stewart would finish fourth in his Matra-Ford while Rindt was forced out by suspension failure in his Lotus-Ford.
Three times world champion Jackie Stewart is pictured with his wife, Helen, in the pits at Monza in 1971.
Patrick Depailler's six-wheeled Tyrrell P34-Ford V8 is prepared in the pit lane of the Belgian Grand Prix at Zolder in 1977. Depailler started from fifth on the grid but ended the race in eighth place.
At the United States Grand Prix in Watkins Glen in 1978 most of the teams were running on Goodyear tyres, except Renault and Ferrari who were on Michelins.
McCartney's BRM P160 comes to a halt after crashing at the Shelsley Walsh hill climb in Worcestershire.
Driver Divina Galica entered three Formula 1 World Championship Grand Prix but failed to qualify each time. Galica is seen here at the British Grand Prix at Brands Hatch in 1976.
Patrick Depailler drives his Tyrrell-Ford Cosworth to ninth place at the Nurburgring in Germany, 1975.;
All photographs courtesy www.motorsportfriends.ch taken from the book Gasoline and Magic and published by Edition Patrick Frey.