Picture power: When doves fly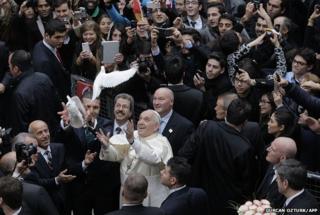 Since Cardinal Jorge Mario Bergoglio was elected to the post of Pope in March last year, pictures of the white-clad figure have featured regularly on the news wires, meeting the faithful at the Vatican or on one of his many tours.
While on a visit to Muslim-majority Turkey, he was photographed by Agence France Presse photographer Gurcan Ozturk releasing two white doves outside Istanbul's Holy Spirit Cathedral.
From a photographic point of view, this is a delight and stood out on the day. The expression on the face of the Pope is caught at the perfect moment, and those around him, both officials and the faithful, are all turned to him, caught in the moment.
Admittedly the majority of them are also trying to capture that moment on their mobile phones and tablets, perhaps in doing so missing out on feeling part of the event themselves. But the need to view the world through a screen is another article in itself.
"We were allowed to shoot the photo from the church's terrace," says Ozturk. "The crowd waiting for the Pope were very excited and enthusiastic. Therefore I wanted to show Pope and people in the same frame." He adds that the release of the doves was over in a couple of seconds.
"The wing movements of white doves and the Pope's child-like joy led me to choose this photo from the others I shot that day. Yes, there were other photographers in my location but I guess I was the luckiest photojournalist," says Ozturk.