In pictures: World leaders and awkward handshakes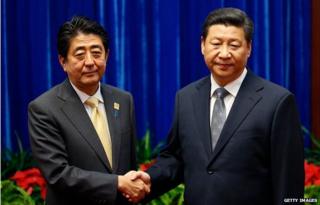 China's President Xi Jinping and Japan's Prime Minister Shinzo Abe looked decidedly awkward as they shook hands on Monday.
Their muted - though politically significant - encounter at the sidelines of the Apec summit in Beijing was not surprising, given that relations are at a low over territorial disputes.
It's not the first time Mr Abe's attitude been described as chilly. And he is far from the only world leader to have been caught looking uncomfortable in front of the cameras.
US President Barack Obama and Russian President Vladimir Putin
Mr Putin and Mr Obama avoided eye contact at the G20 Summit at St Petersburg in September last year. The two countries had just disagreed on whether to take military action in Syria and Russia had refused to extradite American whistleblower Edward Snowden.
French President Francois Hollande and Iranian President Hassan Rouhani
Mr Hollande seemed less comfortable than Mr Rouhani when they met on the sidelines of the UN General Assembly in September this year, amid talks on Iran's nuclear programme. Mr Hollande said he expected "concrete gestures" from Iran to show it was not developing nuclear weapons.
German Chancellor Angela Merkel and Mr Putin, again
Amid heightened tensions over Russia's annexation of Crimea, Mr Putin received what one analyst called a "visual castigation" from Germany's Chancellor Angela Merkel at the D-Day 70th Anniversary commemoration in northern France in June this year.
Britain's Prince Charles and Zimbabwe's President Robert Mugabe
Britain's Prince Charles attracted criticism in 2005 when he shook hands with Zimbabwean President Robert Mugabe who sidestepped a European Union travel ban to attend the funeral of Pope John Paul II in the Vatican.
Former US President George Bush and former UK Prime Minister Gordon Brown
Was it a handshake? A hand-clasp? It's not clear in this photograph of the two men in 2008, when Mr Bush visited Northern Ireland on a tour of Europe.
And finally...
So it's not an awkward handshake, but Australia's PM Tony Abbott and Mr Abe nevertheless raised eyebrows when they posed for this photograph in July while touring a mine in Western Australia - a moment which News Limited called a "cringe-worthy corker".