Brighton Photo Biennial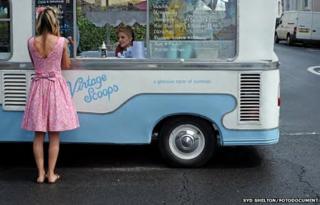 The Brighton Photo Biennial is the UK's largest international photography festival and takes place this year across venues and public spaces in Brighton & Hove and beyond, from 4 October - 2 November 2014.
As you would expect there is a wide range of photography on show, from straight photojournalism to multimedia, and even live feeds from cameras attached to a boat as it makes it's way to the ocean bed, having been sunk to form an artificial reef.
There's lots to enjoy. Here are just a few exhibitions that caught my eye.
Real Britain 1974: Co-Optic and Documentary Photography
This one is a real treat for lovers of documentary photography as it includes work by Martin Parr, Daniel Meadows, Fay Godwin, Paul Hill and Gerry Badger. Today these names are well known, but they too had to start somewhere, and back in 1974 they were part of the Co-Optic group's Real Britain postcard project capturing the country at the height of the photographic documentary movement.
Over the Hill
In 2005 former solicitor Tim Andrews was diagnosed with Parkinson's disease. Since then he has invited more than 300 photographers to take his portrait, some of which are to be displayed as part of the Brighton Photo Fringe festival.
Photographer Danielle Tunstall creates fantastical portraits, often with a horror theme. On her website she writes: "To me portraits are not meant to be just how we look aesthetically, but the experience we go through that make us who we are, how we feel emotionally, how our subconscious and minds work. "
"A remarkably democratic project, it allows the viewer to see one person portrayed in many different ways. A portrait, a self­‐portrait and perhaps an autobiographical account of the photographers themselves" says Julia Horbaschk, photographer and co­‐curator of the show.
This picture below was taken by Simon Roberts, best known for his long term documentary projects, as well taking on the role of the official 2010 British Election Artist..
Stories Seen Through A Glass Plate
The Reeves Studio in Lewes, Sussex, is believed to be the oldest continuously operated photographic studio in the world. It has been run by the same family on the same premises since 1855 when Edward Reeves took his first studio portrait. Today his great-great-grandson runs the operation and looks after the 200,000 archive images, half of which are glass plate negatives.
Pictures from the Reeves Studio Archives are on show on light boxes in shop windows along Lewes High Street, near to the locations where they were originally taken.
Because I Cannot See by Tom Pullen
Because I Cannot See is part of a number of fringe events that support photographers early on in their career in a collaboration with Brighton photo organisation Miniclick.
Tom Pullen collaborated with Sustainable Product Design students, Rob Dooley and Tom Cowell at Falmouth University, and the Cornwall Blind Association, to produce an exhibition that can be fully experienced by the visually impaired.
Alongside Pullen's traditional pictures, 3D tactile portraits are shown as well as audio and braille captions, which serve to break down barriers of separation, and stigma regarding the visually impaired. The tactile portraits are created using specialist computer aided design software and a milling machine.
Working with the Cornwall Blind Association, Pullen began by photographing in blind clubs but soon realised he wanted to focus on the positive aspects and open the work to those he was depicting.
For details of these shows and many other events head over to the Brighton Photo Biennial website.