Echoes of the Black Country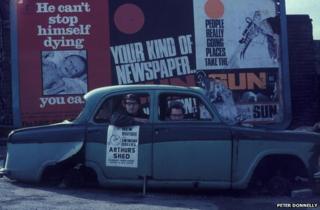 In the 1960s, Britain's industrial landscape was changing. Factories that were once the centre of the country's power and prosperity were shutting down. The physical landscape too was in flux, with derelict buildings dotting the once thriving industrial regions, some of which were now in decline.
Photographer Peter Donnelly set out to record these changes, having won a photography competition in the Daily Telegraph in 1962 with images taken near his home, around Birmingham and the Black Country.
His pictures offer a somewhat romanticised view, concentrating on the buildings, canals and towpaths, with many taken during early-morning walks when the light was soft and perfect for photography. Many were taken on a Pentakon F on Kodachrome or Agfa film. The images have been scanned by his son Simon, following Peter's death in 2005.
A collection of Peter Donnelly's images is now on show at The Light House in Wolverhampton until 31 October as part of the Black Country Echoes Festival. They are shown alongside other collections of archive photography depicting the communities, landscape and industry of the region from the early 1960s to the present day, including work by Nick Hedges, Arthur Lockwood and John Bulmer.
You can watch a BBC interview with Peter Donnelly on YouTube.