Observing the crowd: Bob Collins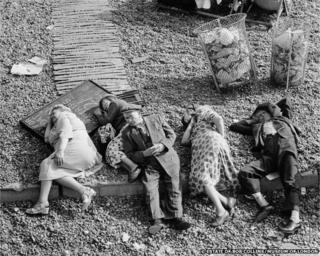 A selection of work by the London photographer Bob Collins is on display in a new exhibition at the Museum of London. The show includes his coverage of major events as well as images of everyday scenes on the streets of the capital. Anna Sparham, the curator of photographs at the Museum of London, writes about the work and picks out a few of her favourites.
For almost 50 years Bob Collins (1924-2002) worked as a freelance photographer, initially as an amateur after World War Two, before turning professional in 1956.
His remarkable photographs of London life, from the 1940s to the 1960s, are striking because of their human interest - expressions and gestures of Londoners captured amidst the breadth of fascinating subjects Collins teased out of the capital city.
Living in London now, I can relate to his meanderings through the streets, markets, stations and events, despite the age in which the photographs were taken, because his camera is focused on the people, interacting with the city around them, in a manner that has not changed drastically since.
We still venture into the West End for an evening out, we still battle the commute to work and we still attend London's sporting events or browse its many markets.
However, as familiar as the scenes might be, Collins's photographs project moments in time that are unique to their era - be that post-War late 1940s or the early 1980s.
Born in East Ham, Collins was given a camera for his seventh birthday, avidly nurturing his passion for photography throughout his life.
After demob he submitted prints of London street life to magazines.
His first published illustrated article came in Amateur Photographer in 1952, combining great wit and enthusiasm.
Continuing in his day job as a watchmaker in Hatton Garden, he flirted with the idea of making it as a professional photographer, eventually taking the leap after making a series of work backstage at the London Palladium, publishing The Palladium Story in 1956.
He never looked back and took up photography full time.
Documenting London life was an important part of his work, and it is these photographs, both amateur and professional, which were offered to the Museum of London in 2007.
The collection, consisting of vintage prints, negatives and contact sheets, amounts to more than 2,000 images.
This month, a new exhibition of Collins's photography at the Museum of London focuses on a common thread in his work - the crowd.
His ability to hunt for individuals in crowded places is one talent that is clearly outstanding when looking through his collection overall.
On show therefore are 50 images that demonstrate this, crossing the many varied London subjects he explored.
Here I have selected a few that stand out.
Collins wrote once: "It wasn't the four-legged animals which commanded appeal but the two-legged ones."
Referring to the Derby Day at Epsom Downs in the late 1950s, Collins's comments reflect on how the activity itself at a major sporting event is not his photographic concern.
Instead it is this woman's demeanour and fleeting expression, while preoccupied with the action surrounding her, that catches his eye and makes for an impressive portrait.
Working at night presented a greater challenge for Collins, testing his ability to blend into the scene.
This candid image in Piccadilly Circus, July 1960, portrays the energy and youthful atmosphere of the buzzing West End.
Rush hour proved a favourite subject for Collins, who enjoyed experimenting with inventive angles and long exposures.
In this photograph, he targets the flow of the mass, creatively capturing Londoners on the move.
Collins's quest was to make spontaneous photographs, some of which were regarded as lucky in their making.
He argued: "Subjects like these are not just found, they are created."
He waited hours in a carefully chosen location to take this photograph on the eve of the Queen's coronation, on 1 June 1953.
In this photograph of the 1990 Easter Parade in Battersea Park, Collins plays with the notion of observation, once again photographing others looking through cameras themselves, loading the image with humour and immediate impact.
Observing the Crowd: Photographs by Bob Collins can be seen at the Museum of London, 16 May to 13 July 2014.