Under the flight path, the landscape of Heathrow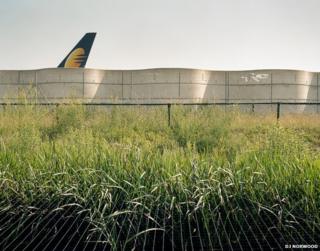 London Mayor Boris Johnson has announced that a new city with 190,000 homes and thousands of jobs could be created if the capital's hub airport moves from Heathrow in west London to a new airport in the Thames Estuary. The Airports Commission will rule on the Estuary option later this year.
Photographer Dan Norwood who completed a Masters in Photojournalism from Westminster University last year has been working on a project entitled, Heathrow Villages, in which he explores the area around the current airport.
"I think this is a fascinating subject as it addresses important issues relating to pollution, global warming and our predilection for air travel," says Norwood. "Against this backdrop are communities with rich agricultural histories threatened with destruction."
He has produced a newspaper of the work, including maps showing the areas of possible development and a translation of one of the meetings between Heathrow Airport Limited and residents from the Harmondsworth and Sipson Residents Association. A nice addition is the occasional black line through the text to represent times when an aircraft passed overhead drowning out the speakers during the debate.
Norwood wanted to take what he calls a sideways glance at the issues, and to avoid the obvious press approach. He worked on film for the aesthetics and what he describes as the slow way of working it enforces.
Here's a selection of the work.