An evocative view of London's streets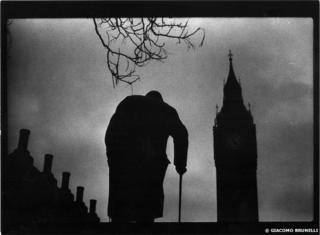 Italian photographer Giacomo Brunelli's latest body of work focuses on the streets of London, rendering the landscape in atmospheric black and white.
The series was commissioned by The Photographers' Gallery and includes a number of London landmarks, but with each reduced to act as the backdrop to the moment that caught Brunelli's attention.
The pictures are taken during his early-morning walks, during which he picks a person or creature at random to act as the player in his scene.
Brunelli uses a Miranda Sensomat 35mm camera that was given to him by his father and each photograph is hand-printed in limited editions.
Prior to this series, Brunelli was best-known for his critically acclaimed series The Animals I/II (2005-2009) where he photographed striking portraits of animals in Italy in a similar style.
Here is a selection of Brunelli's pictures of London.
A book of the series published by Dewi Lewis has been released to coincide with the exhibition of the work at The Photographers' Gallery bookshop.
You can see more of Giacomo Brunelli's work on his website.
All photographs © Giacomo Brunelli, Courtesy of the artist and The Photographers' Gallery, London.