Challenging stereotypes: Teesside's new Roma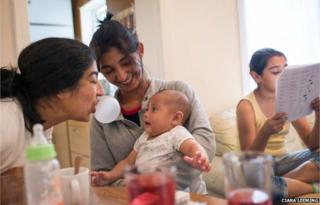 Photographer Ciara Leeming likes to work on long-term documentary projects, often working with sections of the community that receive little visual coverage. Her latest looks at a family of Roma now living in Middlesbrough and challenges many of the stereotypical visuals seen in the media. Here she writes about the project and the inspiration behind it.
Roma Gypsies have barely been out of the news over recent weeks. We've had predictions of riots in a neighbourhood of Sheffield where there has been an influx of Slovakian Roma. We've had moral panics and hurried DNA tests on blond Romani children in Ireland and Greece. And we've seen numerous exposes of Romanian Roma beggars in London, some of whom spent the summer sleeping near Marble Arch.
Hysterical reporting about Roma is nothing new, of course. But as a photographer who has spent the past four years working in the homes of migrant Roma families, I'm convinced photography reinforces the marginalisation of these very varied groups.
News photography in its present incarnation rarely serves as more than an illustration for print stories and editors use images as visual shorthand. There is little room for nuance - a photo of caravans serves the purpose, even if the Roma in that story have lived in houses for generations, and ceased to be nomadic many decades ago.
The 'single story'
Apart from trailers, the stock photos of Roma fall into several categories - namely poverty, shadiness or bling. There are the poverty-stricken slums of Eastern Europe and the shanty camps springing up in France and Spain. The beggars, Big Issue vendors, Marble Arch rough sleepers and - latterly - groups of dodgy-looking Roma men gathering to chat on UK streets. These are all invariably shot with a long lenses.
Other modern-day cliches include gaudy weddings and the ostentatious houses favoured by wealthy Roma in Romania.
The Nigerian novelist Chimamanda Ngozi Adichie did a TED talk a few years ago in which she warned about the danger of the "single story". In it she recalls her shock at seeing a basket woven by a relative of a young servant who worked for her family.
"It had not occurred to me that anybody in his family could actually make something," she says. "All I had heard about them was how poor they were, so that it had become impossible for me to see them as anything else but poor. Their poverty was my single story of them."
Small moments of beauty
This for me strikes at the heart of what I'm trying to challenge when it comes to Roma migrants in the UK. My approach has been to collaborate with individuals over extended periods, to document their experiences and represent them in a way with which they are comfortable.
I've spent the past few years working with Roma to capture the small moments of beauty that exist in all our lives. Banal scenes of normality are as important here as Christmas, birthdays and Easter.
The stories include a bright and ambitious traditional Romanian woman who has overcome a lack of formal education to dine with the Queen, speak at the UN and work on a research project at the University of Manchester; a Muslim convert, a gay Roma teen, a trainee solicitor and a Hungarian Romani mother who uses poetry and painting to challenge the cycle of domestic violence.
Happily integrating
The visual stereotypes associated with photography of Roma all come from somewhere of course - these stories exist. But I believe the regurgitation of the same tired old images reflects and reinforces the prejudices many people still hold about Gypsies: that they are different and somehow "other". What people don't understand they tend to fear.
If the only images we are shown are of caravans, beggars, poverty and gaudy mansions, we'll fail to see the nuance and normality that are the experience of huge swathes of Romani society who are happily integrating - not to mention the common threads that bind us all.
Stay Where There Are Songs, a series of images documenting the experiences of an extended family of Czech Roma now living in Middlesbrough, is currently on show at Side Gallery in Newcastle until 21 December.
The work is being shown alongside We Are All Brothers Here, work by Paul Alexander Knox on the lives of the Bangladeshi community in Sunderland, which also touches on issues of representation and stereotype.
Both projects grew out of Homelands commissions, awarded by Side Gallery last year to photographers to document the emerging migrant communities of the North East of England.
You can see more work by Ciara Leeming on her website and the Roma work can be see here.