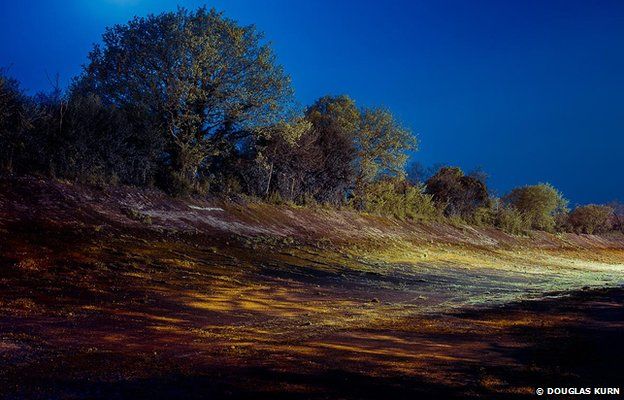 To fans of motor racing the banked section of crumbling road in the above picture is instantly recognisable as the home of British motorsport, Brooklands.
This was the site of the first purpose-built motor racing circuit anywhere in the world, and one that in its heyday in the 1920s and '30s saw thousands of fans lining the track, hoping to catch a glimpse of those pioneering racers.
The course was built in 1907 with sections of concrete banking to allow the cars to reach higher speeds than would otherwise have been possible. The design ensured it was the site of a number of land speed records and was home to the first British Grand Prix in 1927.
Photographer Douglas Kurn lives locally and decided to undertake the task of documenting the remains of the Brooklands circuit.
To contrast with the noise and speed of a race day, Douglas chose to shoot the project at night to give a peaceful, surreal feel to the images. Some of the exposures ran well past the hour and in total the project has taken four years to complete.
The Spirit of Brooklands was chosen by the Association of Photographers for its online exhibition of members' work, and a selection of prints was recently exhibited at the Brooklands Museum in Weybridge.