Southsiders: Portrait of a Community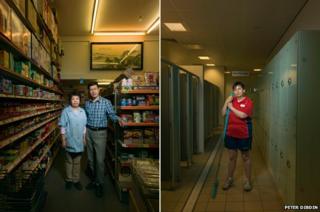 Photographer Peter Dibdin has turned his camera on a community dear to him, creating portraits of the residents and recording their views on the area.
"Southsiders is a portrait project exploring the personalities in a cross section of a truly diverse area of Edinburgh," Dibdin says.
"Some people were suggested to me and some I had to go and find, without quite knowing who I was looking for."
"Without any other instruction, I asked each to look directly into the lens, allowing them to pose themselves," Dibdin adds.
"In this way, I wanted the resulting portraits to not only reflect the dialogue between us, the photographer and sitter, but to carry on and create another connection with you, the viewer."
The final selection includes many of those who are important to the community and one of the delights of the project is the audio recording that accompanies each portrait.
To hear the sitter's voice adds another dimension and is more than a simple transcript can offer, though that is available as well.
The audio was recorded by George Joseph Miller IV who also shot a delightful film around the project, exploring the nature of portraiture and the interaction between the photographer and the sitter.
Southsiders was commissioned by a small grassroots organisation, the Causey Development Trust, and a number of the pictures can be seen attached to buildings in Southside until 5 October.
You can see more of the work and hear the interviews on Peter Dibdin's website.