In the Irish wilderness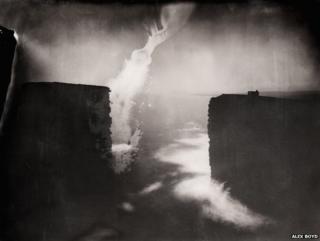 In an age when most people snap pictures with their phone, it takes a dedicated photographer to drag uphill over several miles of moorland not only a plate camera but also darkroom equipment and chemicals.
And to complicate matters further, Alex Boyd is using the wet-collodion process, discovered in 1848 by Frederick Scott Archer - but the results are spectacular.
His work focuses on several hundred miles of Irish coastline and is part of a larger series which maps the edges of the Gaelic speaking world.
"The title of the series, The Point of the Deliverance, is a translation from Gaelic of the name given to a prominent rock in the natural harbour of Portacloy," says Boyd.
"The name, which is at least many centuries old, was given by local fishermen who knew that if they passed the rock during stormy weather, they would make it to safety.
"It is a name which perfectly encapsulates the struggle between the sea, and those who live along this unforgiving coastline."
The use of a 19th Century process means Boyd has to work quickly.
The collodion - a colourless gummy liquid that dries rapidly in the air - is poured onto a glass plate and then sensitised before being placed in the camera while still wet.
Once exposed, the photograph has to be developed immediately and washed.
For the photograph at the top of the page, entitled Last Light Dun Briste, Boyd used a World War II bunker as his temporary darkroom, as well as a shelter from the weather.
He says the process helps him engage with the landscape.
"I'm not interested in resurrecting this old process to try and follow in the footsteps of the great Victorian and [American] Civil War photographers," he says.
"That has all been done before.
"This approach to image-making is about trying to communicate a visual, emotional and physical response to the landscape."
It also offers the photographer total control.
The picture at the top of this page is a manipulation of sorts, as Boyd deliberately underexposed the image and then poured developer on it twice to create what he calls a bolt of lightning.
"The work was inspired by a series of poems by Seamus Heaney," he says.
"These images map out the edges of the northern Gaeltacht, the Irish-speaking area of County Mayo on the edge of the Atlantic.
"The photographs show a largely empty moorland landscape bounded by a coastline of high cliffs, sea stacks and temperamental and unpredictable weather systems.
"One of the last great western European wildernesses, the moors, remain as desolate as when they were emptied of people by subsequent famine and clearance."
Boyd's work is influenced by photographers such as Bill Brandt, Fay Godwin and Thomas Joshua Cooper as well as artist Norman Ackroyd.