Subbuteo: In the box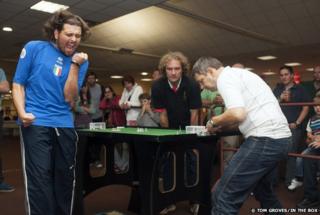 As we grow up we are supposed to put away childish things, but why do that when some of them are so much fun. One game that has stuck with me through the years is Subbuteo, the table top football game with a catch line, Flick to kick.
So when I stumbled upon a photographic project called In the box by Tom Groves on this very subject I had to take a look. Back in the 1970s and 80s Subbuteo could probably be found in many boys' bedrooms, yet as computerised football games grew the magic of flicking those little plastic figures around a green pitch seemed to fade, and indeed its availability has been off and on for many years, until a re-launch at the 2012 London Toy Fair.
Despite this, die hard fans have stuck with it and continued to compete, some at an international level for the Subbuteo World Cup.
Groves has been documenting those clashes for a number of years, focusing on the moment of celebration as players react to a goal scored. "One of my closest friends has been playing competitively since we were 12 so I've had the game around me for the past 16 years," says Groves. "But it wasn't until he organised a tournament in 2010 that I saw the potential for a photographic project which would reveal the players and their bizarre yet delightful world to many others who would have no idea that it exists."
Groves has travelled widely for this project, visiting tournaments in Berlin, Leicester, Paris, Cardiff, Tuscany, Bristol and Frameries. Many players travel long distances to represent their country with dreams of winning. "For most this will always be a fantasy, however the camaraderie and the friendships that stretch right across Europe has been one of the nicest and least expected thing I've witnessed over the past years," says Groves.
Alongside the football games that are now available on mobile phones and tablets the game could be seen as out of place, yet its popularity seems to be on the rise once more.
"I think the appeal today leans towards a slight nostalgic glimpse of their childhood for most, but for the minority its a way of competing in a sport at a high level that perhaps on a football field would not be possible. The game is now fully available on the high street after several years and is enjoying record sales, so I really think there is a surge of interest in the UK when its been thriving in Europe for the past two decades."
There's is certainly a dollop of nostalgia in there I'm sure, yet it can also bring together different generations of players each able to compete on one level and for most that's where it ends. Yet Groves' pictures reveal a serious side to Subbuteo, the competitive ambitions of the players.
"There is quite a healthy respect and rivalry between top players, however when there is an important game and lots of people gather around to watch, the goal celebrations can be very intense, especially when there is some form of title at stake, like the World cup or the Europa cup.
"You have to remember that most of these players have been playing the same circuit for many years so have made friends and bonded with those they respect. You do see some elements of tension between some, whether for personal reasons or due to previous results it can get quite heated sometimes with emotions running high.
"I've witnessed some impressive things over the course of the project both good and bad. I think the most surprising was at one point a man was knocked out of the competition in the semi-final and he spent five minutes on his knees crying inconsolably as he had such belief that he was going to win.
"Saying that some players just get maddened when a decision doesn't go their way and will argue with the referee, the crowd and anyone else who's listening."
The skill levels are impressive, for anyone who has played there are certain shots and techniques that are hard to master. "The special flicks such as the superman where a player can get his figure to jump over the oppositions figure to get to the ball and to immediately shoot is an incredible skill.
"With the team events results can change in an instant so I think seeing Spain win the World Cup last year was one of the best moments for me and the most excited I've seen these players."
You can find out more about the project on Tom Groves website, and if you are interested in learning more about the world of Subbuteo then the website of the English Subbuteo Association is a good place to start. And for a light hearted look at the game, this gallery by Terry Lee recreates classic moments from footballing history.