Photojournalism and the Presidency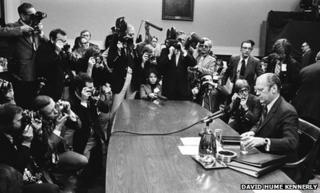 An exhibition at the Dolph Briscoe Center for American History in Austin, Texas, draws on its extensive vaults to bring together pictures recording some key moments in US history. The opening night was attended by a long list of photographic luminaries - journalist James Jeffrey went along to speak to some of them.
While President Barack Obama has now embraced Google Hangout to reach out to his constituents, the latest photography exhibit at the Lyndon Baines Johnson Presidential Library highlights how photojournalists used an increasingly old-fashioned medium to present US presidents to the world.
Thirteen presidential administrations from the 1930s to today are featured in News to History - Photojournalism and the Presidency, which uses photos from the Briscoe Center for American History's archive to capture the interaction of each president with his time, as well as the tumultuous events that swirled around each man.
Photos by the likes of Dirck Halstead, David Kennerly, Lucian Perkins, Margaret Thomas, David Valdez and Diana Walker - all of whom attended the exhibit's opening reception in Austin - convey both the violent and tragic as well as the exuberant and inspiring trajectory of the American experience during each administration.
"It is the photojournalist equivalent of having the likes of George Clooney, Harrison Ford and Meryl Streep all in the same room," says Mary Bock, an assistant professor at the University of Texas at Austin's School of Journalism.
Original prints included Elvis Presley wild-eyed and snarling into a microphone while cavorting on stage in Tampa, Florida; white female students yelling abuse at an African-American student during school integration in Montgomery, Alabama; the anguished face of Jacqueline Kennedy in Arlington National Cemetery as she accepts the folded Stars and Stripes that covered her husband's coffin; three fireman raising an American flag at the World Trade Center site on the afternoon of 11 September 2001 and many more.
The ability of journalists' photographic images to affect politics was not lost on presidential incumbents.
"Because I'm president of the United States and commander-in-chief of the most powerful nation in the world, I take orders from no-one - except the photographers," remarked President Harry S Truman. President Richard Nixon called the press "the enemy".
While the photographs conjured up the past, those who had taken them voiced their opinions about the future of photojournalism in a social media-saturated world.
"I have been doing this for 50 years and now more people see my work than ever before thanks to the internet and Facebook," says David Kennerly, who won a 1972 Pulitzer Prize for his portfolio of Vietnam War photographs.
Diana Walker, Time magazine's White House photographer for 20 years, pointed out a photo she took of Hillary Clinton using her smartphone on a C-17 military transport plane, which went viral on the internet after Tumblr posted it.
She is pleased how many more people are now empowered to enjoy photography thanks to smartphone camera technology, but noted there was still a huge difference between people taking photographs for fun and those who dedicated their lives to photography.
"Today you have to get out of your head the idea of being a photojournalist - you are now a producer," says Dirck Halstead, who holds the record for the most Time magazine covers shot by a photographer.
He shot 49 of them, including perhaps his most notorious photograph, that of former White House intern Monica Lewinsky embracing President Bill Clinton during a fundraising event in 1996.
There has been a paradigm shift in photojournalism, Mr Halstead says, and the days when he got paid $750 a day to shoot for Time are long gone. It's now about producing - whether photographs, video or a written article - and delivering to your sponsor and being paid for the end product, he says.
Journalists used to research stories for up to two years, says Lucian Perkins, a double Pulitzer Prize winner who for 27 years worked as a staff photographer for the Washington Post. But the funding mechanism no longer exists to support such investigative journalism, and Mr Perkins wonders who will be able to tell America's important stories.
"You cannot beat black-and-white photos," says Margaret Thomas, who in 1966 became the Washington Post's first female photographer. She lamented how the mystique of the darkroom had gone, and with it a sense of community. "Now everyone just plunks themselves down in front of a computer."
But today's photography concerns have been seen before. When 35mm cameras first emerged there was uproar, similar to present concerns about the impact of new technologies, says David Valdez, former personal photographer to George HW Bush and general manager of photography for Walt Disney Attractions. Mr Valdez embraced the new technology back then, just as he is doing now to continue working.
"I'm a big fan of Instagram," Mr Valdez says, "though I would love to sharpen up the black and white of its signature filter."
For further details of the exhibition visit the Briscoe Center's website.
All photographs copyright Dolph Briscoe Center for American History, The University of Texas at Austin.