Life behind the sea wall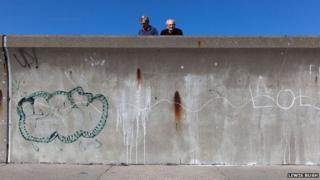 Sixty years ago on the 1 February 1953 fierce storms battered the east coast of Britain and resulted in the deaths of more than 300 people, 24,000 homes were flooded and more than 30,000 people were left homeless.
In Canvey Island, Essex, the entire 13,000-strong population was moved to safety as the bad weather took hold and Essex police reported they had recovered bodies during the night. In fact 59 people died on the island.
Photographer Lewis Bush has been exploring the island of Canvey which sits below sea level, making pictures of the 14 miles of sea walls that now protects the residents and speaking to some of those who live there.
"Canvey was originally a series of small islands in the Thames estuary, but in the 17th Century Dutch engineers reclaimed land from the sea to form one large island," says Bush. "In the 19th Century Canvey acquired something of a reputation as a seaside resort, being the closest beach to London's east end.
"In the wake of the 1953 disaster a massive new seawall was built around the island which made it one of the safest parts of the UK from a flooding perspective, but also left its seafront separated from the sea. Canvey's unique geography puts it in the strange position of being on the one hand dependent on the surrounding water for its identity, and to some extent economy, and on the other hand always at risk of being submerged again."
Here are a few of Bush's pictures.
You can see more of Lewis Bush's work on his website.