Inside Haiti's Iron Market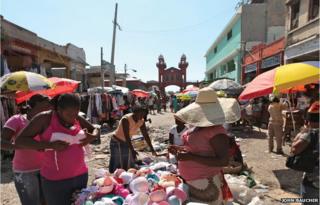 It is three years since a magnitude 7.0 earthquake hit the city of Port-au-Prince in Haiti, resulting in more than 200,000 deaths and one million being left homeless.
The disaster pushed the aid agencies to the limit. Much help was promised from around the globe, yet the scale of devastation and other complications led to delays.
Even now, three years on, with the return of cholera to the island for the first time in a century and with as many as 400,000 people still living in tent cities, there is evidence that the reconstruction of many lives is still a distant dream.
Yet there have been some successes. Photographer John Baucher has published a book entitled Nou La, We Are Here which documents the lives of those who work at the Iron Market (Marche de Fer) in Port-au-Prince.
Built in France, the main structure was originally destined to be a railway station in Cairo, but the deal fell through and so the President of Haiti Florvil Hyppolite had it shipped over in 1891, and there it stood until it was destroyed by the earthquake of 2010.
The market consisted of two halls joined by a clock tower and an ambitious rebuilding project saw it reopen a year on from the quake, with ex-US President Bill Clinton on hand to do the honours.
The new market was rebuilt using as much of the original material as possible, with the addition of a new perimeter wall which saw local tradesmen employed to create ornamental details. It also houses a large array of solar panels to provide the power. "The Iron Market is a first-class building for a third world country," says Baucher. "And whilst the building is important it is the people who use the building who make it."
Baucher's pictures capture some of the 900 traders in the halls, at work, engaging with their customers and sometimes just proudly sitting in front of their stalls. It's a lovely body of work and one that shows that photography can focus on the positive as well as the gloomier side of life.
Here's a selection from the book.
I have previously written about John Baucher's street portraits: Belfast and Beyond: Through the Viewfinder