Picture power: The price of war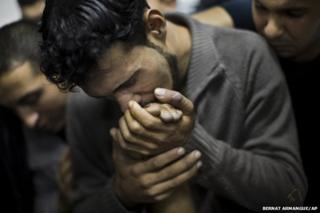 In the third of a series of five articles where photographers are invited to talk about the back story to one of their pictures taken this year, Associated Press photographer Bernat Armangue speaks about how he obtained this moving picture during the recent conflict between Israel and Hamas.
On 14 November 2012 Israel launched its offensive against militants in Gaza, following an escalation of cross-border violence which has raged between the two sides for years. At least 158 Palestinians and six Israelis were killed in the eight-day conflict, which Israel said was aimed at halting rocket fire from the Palestinian territory.
Armangue has covered the unrest between Israel and the Palestinians for a number of years.
Bernat Armangue
When Israel killed Hamas military chief Ahmed Jabari on 14 November I was in Cairo working on a project about Egypt's Coptic community. I remember I was editing my pictures on my computer when suddenly all the TVs in our office began showing footage of fire fighters trying to extinguish the flames of the Hamas car wreckage.
When I first arrived in Jerusalem, one of the most important things my colleagues told me was, "you can't predict in the Middle East". Even though when I realized that Jabari was the target my stomach immediately told me, "move now, this will be a big one".
In 2008, during the Operation Cast Lead, Israel closed access into Gaza, so most of us had to cover the conflict from the Israeli side. This time I was worried that something similar would happen so I prepared the paperwork to cross into Gaza from Rafah (on the Egyptian side) but also decided to gamble on taking an early flight to Tel Aviv just in case I needed to cross in from Israel. This time it was different and on 15 November I managed to enter Gaza through Erez (an Israeli controlled border crossing).
I took this picture a few days later at the end of a long Sunday spent taking pictures of Palestinian rescue workers pulling out bodies from beneath the rubble. As it began to get dark, I decided to visit the morgue of the main hospital in Gaza City.
There, four bodies of children were lying on a metallic table. I took some pictures of them and when I thought I had enough I decided to move on.
But just then a group of men stormed into the room and their gaze fell on a different cadaver, it was someone they knew. They surrounded the body and began shouting and wailing, as they tried to process the idea that someone they cherished was gone.
I began taking pictures of them, realising they were not likely to even notice me, so immersed were they in their grief. I saw one of them, grasping and kissing the hand of this dead man while whispering goodbye. After a few seconds, I knew my job was done and I left the room. I guess I witnessed a sad moment of love.
No matter which side of a conflict you are covering, nobody enjoys taking pictures in moments like this. For years, I've covered both sides of the Israeli-Palestinian problem and I've seen people from both sides mourning their lost ones. I guess this is what this picture shows: the price of war, no matter who or where you are.