Drowning world by Gideon Mendel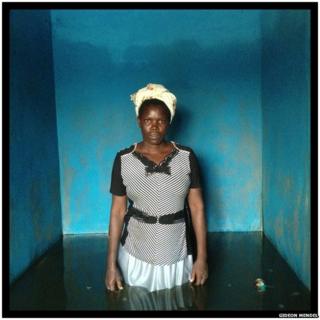 Photographer Gideon Mendel has spent much of his career documenting social issues around the globe and was one of the first to use photography to highlight the issue of HIV and Aids in Africa in the early 1990s. It was a piece of work that set out to challenge the stereotypical view of the struggle at that time, and broke new ground in terms of style.
One of his current projects, Drowning World, looks at the impact of flooding. On a recent assignment to Nigeria, Mendel released a number of pictures via the photography app, Instagram, alongside his more traditional work. It is an interesting departure and yet the resulting pictures are still very much in his style.
Mendel is not the only one to do this, of course. Many photojournalists regularly release updates on their latest project in this way, gathering a new audience via social media/ Photographers working for the news wire agencies sometimes shoot using apps alongside their work on digital SLRs. The majority of these pictures are daily life stories, though some have been used to cover harder news. Indeed, Time Magazine recently ran a cover picture by photographer Benjamin Lowy of super-storm Sandy that was taken using Instagram.
This has created something of a split among photographers and editors as to whether such an approach is acceptable. The app offers users a range of filters that can be added to an image, from simple colour changes to a more extreme vintage look, and some would argue that this altering of the image is not suitable in a news context.
Yet what is photography if not something that shapes the world? It captures a moment in time and renders it in two dimensions; it's down to the skill and authority of the photographer to select the right moment and view that will ensure the tones and shapes in the frame lead the viewer to want to know more about the subject.
There are so many pictures in circulation that how they were taken, from a technical, not ethical point of view, does not seem to be of any relevance. It's about the end result and whether it communicates something of the subject to the viewer. If the technology is all that is of interest, then we've missed the point.
Of course, there is also a danger that we get sucked in by the pure aesthetic punch these apps offer, and it is true to say that one reason for their success is the fact that they can make almost any subject look interesting. Yet the trick for photographers is to mould them to suit our needs and to ensure that, most importantly, the subject comes through.
Mendel is one of those: his work is all about the subject and the issue he is documenting. Here, he talks briefly about his latest project.
Gideon Mendel
I have recently returned from two weeks spent photographing the impact of the recent flooding in Nigeria. Basing myself in Yenagoa, in the state of Bayelsa, I experienced at first hand the devastating impact of the recent flooding which killed 363 people and displaced more than two million.
I had chosen to travel to Nigeria to document these floods as part of "Drowning World", a long-term photographic and video project exploring the global impact of flooding. Since 2007 I have endeavoured to visit scenes of inundation around the world, covering floods in the UK, India, Pakistan, Australia and Thailand. I have chosen to focus on these extreme circumstances as a way of responding to the threat of climate change.
Although the impact of the flooding was widespread across Bayelsa and many other states, I chose to focus on the community of Igbogeni, one of the many which had been devastated by the flooding. I wanted to get an intimate sense of how individual lives are affected. I was there six weeks after the floods first came but met many people whose houses were still more than waist-high with water.
For the first time in my long career as a photographer, I put out a daily "feed" of images on this trip via Instagram. Despite the fact that I have relatively few "followers", these images (through the unexpected power of Twitter) drew a lot attention to a flooding crisis, which has devastated countless lives and has been largely ignored by global media.
Portraits of flood victims are at the heart of this project. I have taken my images so far in a way that lets the flood victims I locate directly address the camera, looking outwards from an environmental calamity that has all but destroyed their lives. Their unsettling gaze challenges the viewer, questioning our communal culpability for their plight.
Scientists have been predicting that man-made climate change will cause a variety of "extreme weather events". Among them is this sort of flooding which could become more frequent and even more widespread in the coming years.
It is all too easy to see the victims as faceless statistics, but here they invade the world of the viewer, demanding recognition. As this project develops, the "conversation" created by placing images from different floods in different countries at different times side becomes more interesting. The lives of these individuals are linked and they stand in solidarity.
You can see more of Gideon Mendel's work on his website and a picture gallery of his instagram photographs here.
Update 29 November
Following on from some of the comments below, Gideon and I thought it would be of interest to add further details about his use of the Instagram feed.
Gideon Mendel writes:
My Visual Diary (trying to come up with a better name for it) Instagram project began as an attempt to deal with and respond to the world of social media which people of my age are sometimes reluctantly dragged into. It started with an initial "manifesto" to send out in a daily feed at least one interesting image every day with no post production, no filters, no distressed borders - just simply as it was taken.
I was trying to see if the medium, which is often used in a frivolous way could be used very seriously, and if it could become a meaningful part of my practice.
My followers (I'm @gideonmendel) get to follow my journey and see a mix of images taken in all the dimensions of my photographic experience. This ranges from my professional assignments (recently cows in Denmark and Holland) or when I am working on a serious personal project (such as Drowning World in Nigeria) to the more personal images of my home life or observational moments in the daily flux of my life as I cycle in London or travel from assignments.
I will be travelling to Mumbai in India on 9 December for the next chapter of the Through Positive Eyes collaborative project. I am one of the directors of the two-week collaborative workshops and we are busy discussing right now how my Instagram feed could be part of it, and hopefully work to draw a greater audience to the project.
You can see the whole back history of the Instgram project which is now two months old at: http://instagram.com/gideonmendel
I have made a commitment to continue the feed for the next month, but I fear it could carry on longer as I become increasingly engaged with it - possibly even for six months or a year.