Crossing Paths with Niall McDiarmid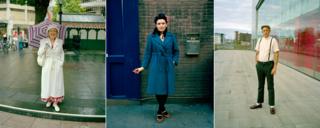 I'm guessing that most photographers run across interesting characters every day, faces in the crowd that we know would make a great picture. Sometimes we might stop and ask if we can take a portrait but most of the time we hurry on by.
Niall McDiarmid has done what we should all have done and has spent the past couple of years collecting portraits from the streets. Beautiful pictures they are too, with simple captions explaining where they were shot.
This is a visual journey around the country, the faces, the clothes and the poses for the camera that offer small glimpses of the personalities depicted.
Niall McDiarmid
I had the simple idea of going for a walk in the streets near where I live in south London to see what interesting characters I could meet - see who I crossed paths with.
I was pleased with the images I was getting so I decided to expand the series to cover the whole of London. I took to the streets in my spare time, going to different areas and stopping off at places I hadn't visited for years, meeting engaging people and taking their portraits.
Within a couple of months I had branched out to cover towns across South East England and then, in the summer 2011, I had the crazy idea that I could go to every major town in the UK. Since then I have visited more than 75 towns, covered thousands of miles and photographed more than 500 people.
Although many of those who agree to be photographed tell me a bit about their lives, I really just want this to be a visual project - a record of that person on that street at that time.
It's hard to say who I chose to stop and photograph, but I suppose I am looking for people who have a certain charisma that sets them apart from everybody else.
Whether Britain's high streets are in decline is hard to say, but I think they are very homogenised, with chain stores dominating in all the main city centres. You can buy the same goods, in the same shops everywhere from Inverness to Exeter. However while the shops might be the same, the people certainly aren't. As a nation we are blessed with a talent for being individuals who are not afraid to stick out from the crowd. It is also a sign of our nation's tolerance that in most cases no matter what your age, sex, ethnicity or social background you can be as you wish, wear what you like and walk down any high street without feeling alienated.
A few people say no to being photographed but, thankfully, I seem to have a knack of getting a yes from the majority. Maybe it's just many years experience of being a photographer combined with a little Scottish wily charm. Saying that, an aghast transvestite in Wrexham threatened to chase me down the street after I asked her for a picture. I beat a hasty retreat.
I use an old medium format film camera to take the portraits. Print film has a very delicate way of rendering colour which suits this project where there are so many different combinations of clothing and backgrounds. The camera is also a little less intimidating to those I meet than most modern professional digital cameras.
I don't have a definite end point but I think by next summer my feet will need a rest and I would love to exhibit the project at different locations around the UK.
You can see more portraits at www.crossing-paths.co.uk and other work by Niall on his website.