Babel, the urge to pray by Viviana Peretti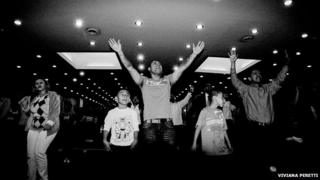 Viviana Peretti considers herself a street photographer, yet her latest work, Babel, the urge to pray, takes this one stage further.
Before Peretti came to New York she expected to find a secular and consumer-driven city. "I was really surprised by the rich, diverse, intense religious life present in each neighbourhood and the complex and sometimes complicated implications these different belief systems have for how people live their lives. The number of temples is overwhelming, but so is the media's indifference to this aspect of the city, as is their consistent tendency to sell the world the most glamour-focused, profane vision of New York."
These encounters with different religious groups and the lack of representation of spiritual life in the media began to form in to an idea which has developed in to this ongoing series.
"Maybe because it is assumed that religion is not a topic that appeals to the public, or because it is not an easy subject to 'sell'? Maybe because, at this moment of global religious tensions and confrontations, the relative religious tolerance (or indifference) found in New York City is not considered news. But I think these stories, and how they coexist together, are important and worth exploring."
Babel, the urge to pray focuses on different religions in New York, some practiced by various immigrant communities and others where the majority of the faithful are Americans.
"In the immigrant communities that I began photographing in 2010 - Hasidic Jews, Jehovah's Witnesses, Muslims, Haitian Vodouists, Hare Krishna, Roman Catholics and Greek Orthodox - spirituality represents an element of unity for people that, whether they migrated here fairly recently or many generations ago, still belong to very separate social, linguistic and religious groups.
"New York City is not just a multi ethnic, dynamic, composite metropolis but also a 'Babel' full of enclaves, mainly faith based. For many people in New York, religion represents a source of community and intimacy with their fellows and at the same time an element of separation from the rest of the world that doesn't share their beliefs."
Following research Peretti began to photograph in black and white as Peretti feels that New York is better without the distraction of the colour which makes it look so glamorous and fake, something she describes as the set of a movie devoid of reality.
"I see New York as a black and white city with its skyscrapers and its people rushing alone between the concrete and pavement of its long, congested avenues. I also find that in the case of this project shooting in black and white helps to give the idea of timeless traditions and beliefs. Finally, I love the grain and tonalities that film has versus the digital files."
The majority of the communities are captured from within, many taking months to complete, though not all, some are over in a couple of days.
Peretti estimates that she has at least a year to go on the project with aims to turn it in to a book and multimedia piece, seeing the addition of text and audio she has collected from the locations as being a way to increase engagement and understanding.
She sees the work as the start of a conversation. "A photograph for me is always a kind of provocation: I hope to create an emotional or rational reaction in the viewer... photographs that leave us indifferent are meaningless."
Here are a few frames from the series with comments by Peretti.
You can see more of Viviana Peretti's series Babel, the Urge to Pray on her website and keep up with developments via her blog.