Urban photographer of the year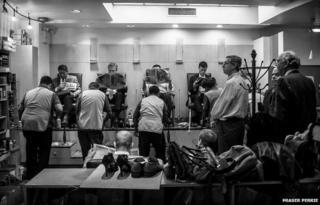 This year's CBRE Urban Photographer of the Year awards have been announced, and the British photographer Fraser Perrie is the overall winner for Shoeshine NYC, his picture of cobblers beneath New York's Rockefeller Centre.
This year's theme was "cities at work", and the competition attracted more than 8,000 entries from 115 countries, including South Korea, Sudan, Kyrgyzstan and Bangladesh.
"The images we received during this year's competition were outstanding," says one of the judges, Michael Strong. "Fraser Perrie's winning image captures a compelling symmetry between the lives of strangers."
Graeme Edwards is runner-up for his picture, Escherlike In Melbourne.
Tim Martin wins third place for this picture taken in Hong Kong.
Other awards are given for pictures taken at different times of the day.
Here's a selection.
You can see more of the winner at www.cbrephotographer.com