Soviet snapshots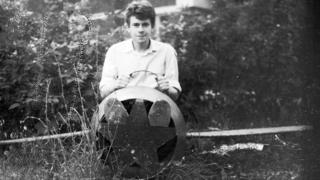 The history of photography is often seen as a linear one, with each generation pushing in to new areas and ways of working. Yet that lineage is often heavily weighted to Western photographers, often ignoring vast parts of the globe.
One era that is often ignored is work from the former Soviet Union, something that struck photographer Richard Schofield as odd and forms the basis of his new project, Snapshot Citizens, on show in Brighton.
Schofield's interest was spurred by a lecture on photojournalism and documentary photography that failed to mention the work of photographers from behind the Iron Curtain, giving the reason being the censorship and propaganda of the Soviet era.
A long-term resident of a former Soviet republic, he realised that there was a huge archive lying in family photo albums and the archives of the serious amateurs working independently throughout the USSR.
Snapshot Citizens is an ambitious project to digitally archive, exhibit and publish a wide range of snapshot, amateur and previously unpublished photographs taken in the Soviet Union between the 1917 October Revolution and the resignation of Mikhail Gorbachev on Christmas Day, 1991.
A fascinating area to explore and one I asked him to elaborate on, both the historical and political aspects as well as aesthetics.
Richard Schofield
It's interesting that you ask about the style. In the Soviet Union there was almost without exception no access to Western photography. I've interviewed countless photographers working in the 1950s and 60s and all of them have said that, in the beginning at least, they were working mostly from instinct.
Ultimately this didn't lead to any distinct styles of photography. On the contrary, most of the work, whether snapshots or serious amateur photography, is remarkably similar to its Western counterparts.
What is different is what's going on inside the photograph, and this is half of what the project is all about. Whereas the KGB would arrive at an exhibition the day before it opened and remove anything from the walls that didn't fit entirely with party policy (and we're talking things as seemingly harmless as a soldier wearing his hat at a jaunty angle), amateur photographers were free, more often than not entirely entirely unconsciously, to photograph real life. It's ultimately the stories behind the photographs that tell the real stories.
What draws me to the work is its non-political (or rather non-party-political) quality. What unites these pictures are there existence outside Soviet life as we know it.
Aesthetically it's all part of my almost obsessive interest in amateur photography in general, notably the role it has had throughout history in helping show the world as it really is. The work is so varied that there is really no one aesthetic.
Several pictures from the exhibition stand out for me, and there isn't one that doesn't excite me in one way or another.
Due to the limited budget of the exhibition, I haven't been able to show anywhere near as much as I'd like to. Almost without exception all of the photographers included have large bodies of work that warrant exhibitions on their own.
If I had to pick out three, I'd go for Irena Giedraitiene (the only amateur photographer as far as I know to win a World Press Photo award, in 1974), Sergei Podgorkov and Sergey Chilikov. None of them are that well known (although Chilikov did have a show at Arles), but all are worth further investigation.
In terms of the future, I have one main aim, namely to collect the work before it vanishes forever. Most of the people I speak to who own these kind of photographs are entirely unaware of their importance and consequently it is being lost, never to be replaced.
Beyond that I want to continue promoting the immense importance of amateur photography, to hopefully discover some truly outstanding talent above and beyond the incredible talent I've already discovered and, finally, to produce a book, which I hope to publish in 2017 to coincide with the centenary of the October Revolution.
The show can be seen at Phoenix, Brighton, England, 16-21 October 2012. You can read about Richard Schofield's MA series shot on a mobile phone in a previous post.