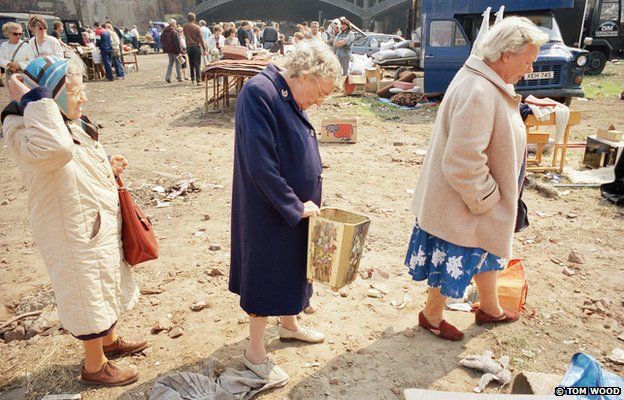 How long does it take for a body of work to be ready? A decade, more? Well, for photographer Tom Wood it seems that 40 years is about right.
Men and women is a new show at the Photographers' Gallery in London which brings together Wood's pictures of the everyday lives of the people of Liverpool and Merseyside between 1973 and the start of this century.
Wood's method of working was simple. For five days of the week he'd shoot on the streets, or from a bus, and was soon known by those he saw regularly as Photieman.
"I was making pictures, with people that allowed me to photograph them," says Wood. "I was just going out and making pictures every day on loads of things all at once and never finished anything. Lots of the projects I didn't want to finish or to put in to the world at that time."
The resulting pictures would be filed away, each one contributing to different projects that over the years built in to substantial bodies of work.
Some were of course shorter term projects, for example his insightful pictures of the Chelsea Reach nightclub which featured in his 1989 book Looking for Love. An outstanding piece of work that captures a generation coming of age, each picture a visual delight.
Other books followed, All Zones Off Peak in 1998 and Photieman in 2005.
Yet despite this Wood has never sought publicity, indeed a quick search of the web yields few articles, at least prior to this show. "I have always kept a low profile, never pushed it, and that was on purpose, I haven't even got a website," he says. "I never felt I had the right to do that, taking the images felt like an exchange somehow, but now so much time has passed. Though I'm still not putting it online, though you will of course.
"There are a lot of portraits in this show, and you ask people permission for those, but you can't jump off a bus to ask permission. But then there are plenty I would not show, pictures from the Chelsea Reach for example. I have a responsibility to the people I photograph and have never sold them for advertising despite offers."
Indeed Wood did not make a living out of his photography, he did that by teaching at the local college, and as he notes, living fairly simply.
To many in the business Wood is a true photographer and held in high regard. One that has dedicated his life to his art and has cut no corners nor bent to prevailing trends. He is often classified as a documentary photographer, but he tells me quite forcefully that is not the case. "I am not trying to document anything, I am asking a question. It is more about deciphering and transforming. You don't call a poet, a documentary poet, because they write about life, so why a photographer?"
It is that exploration of the subject and what stimulated him to make a picture that is of such interest, a contest between the form and the content. "When the stuff is too journalistic and documentary then it is journalism, if it is too conceptual and arty then that is another thing, but where the two meet - that is interesting."
"You are after this intangible thing which is not a document. You can photograph the same face 50 times and 49 are not interesting, but one is and it goes to another place.
"I wanted to allow that time as a gestation period, each picture should be a discovery. It is about asking a question, you don't know which are the great pictures just like that."
For this show Wood collaborated with artist Padraig Timoney who helped collate the work to fit the men and women theme, removing the constraints of time and balancing the pictures to each other. The result is a visual poem and one that helps remove the nostalgic trap one could fall in to.
Yet even after so much time taking pictures Wood is keen to stress he is still learning about photography. His enthusiasm for the medium comes through and you know that is something he will never lose. "It is the easiest art form, but in many ways the most complex," he says. To stress that point one of the pictures on show was taken by Wood on the first roll of film he shot and shows his landlady resting on the grass.
"You could never get that if you were playing the violin, or a footballer. On your first day there is no way you could do anything meaningful, but as a photographer you can. It is easy to become quite good, quite quickly, but to create a real body of work is like pushing a rock up a hill."
The pictures on show are all analogue prints, as though Wood initially had them printed digitally he found they all looked the same, which in some cases is what you are after. In this case though Wood wanted to reflect the fact that he had shot on a wide range of film stock, sometimes using amateur or out of date film for financial reasons, and many different cameras.
"What happens is the actual film characteristics come out. They look great. When you put them beside the digital which you thought was good, you see the film ones have more depth and range."
Wood is still shooting landscapes in North Wales where he now lives, something you will not be surprised to learn he has been doing for 40 years, with plans to show the work next year. On top of that there are a number of books in the pipeline and other bodies of work that have been in progress are also now coming to fruition. I for one, can't wait to see them.
All photographs © Tom Wood, Courtesy of the artist and The Photographers' Gallery, London, 2012.