Press photography and education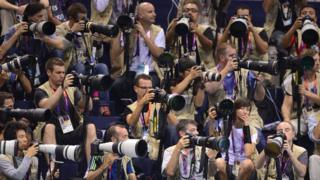 In 1964 a group of young photographers gathered in Wolverhampton to take part in the first National Council for the Training of Journalists (NCTJ) residential course for photographers.
Nearly 50 years later, those snappers were back together for a reunion at the Press Association in London, among them Brian Aris who reported on major events across the globe before turning his attention to the world of music, and Brian Bould who worked for the Daily Mail for 34 years. Another member of the group, Ian Wright, who worked for the BBC's Radio Times, wrote about his NCTJ experience earlier this year.
Alongside them were today's generation of would-be press photographers who had come along to hear more about the NCTJ course and to be inspired by the work of leading photojournalists.
It was a fascinating afternoon with a number of photographers and picture editors offering their views on the industry and of course what the NCTJ can offer. A key point was the role education has in an age when anyone can pick up a camera, shoot and file pictures to prospective clients. Why study, why not just do?
Martin Keene, group picture editor for the Press Association, is a firm supporter of education. "It is easier to be taught things than to find them out by trial and error. No newspaper wants photographers learning as they go along, what they need is reliability. The mistakes can be made while training and you can try things you might never try at work."
Perhaps just as importantly, there is the social interaction you get through a course, lifting each student out of their environment and offering them a chance to experience new ideas and views of the world. At a time when the industry is facing challenging times from changes to distribution and funding models, photographers need be on their game and present a responsible face to the public - and courses such as this help. Not to mention the fact that they also need a thorough understanding of the law and Press Complaints Commission (PCC) guidelines.
"As well as on the job learning, the NCTJ course shows you the process of photography and the chain of events in a news story, something it would be tough to pick up the streets." said PA photographer Ben Birchall.
This is an interesting point, as for those who have not yet worked in the field it may all seem fairly random. But like most things, there is a process to covering all stories and to get the best pictures, you need to be aware of this - otherwise you won't last long.
Then there is the photography itself and the part talent plays in getting in to the industry. Whilst this was acknowledged, there was also a feeling that it's as much about having a nose for a story and the passion to follow it up, not just the ability to make a great picture.
"There is a link between ideas and what you can do," said PA photographer Lewis Whyld. "You can have great ideas but if you can't technically make them happen with the camera, then you can't create pictures you can sell. And if you don't have any good ideas, then it does not matter how good you are with a camera. You need to be able to transfer the creative ideas to the results."
Paul Walters, the picture editor at South West News Service, added a level of realism. "Most pictures are run of the mill and are there to illustrate the story. Photographers would be happy to take six great shots in their career. It is the story that matters and if you have good pictures to go with it that will give you a far better chance of getting it published."
"One fundamental point is that as journalists we are all storytellers, be it with a camera or notebook," said Keene. "Our job is to go out and find something interesting and tell it to our community. Now we usually think of the community by geographic region, but that may change. It may be a community around a subject, sport, an event and so on, yet that is the essential piece at the heart of what photographers need to do."
That community now reads and watches across many different platforms, and Whyld mentioned that the next year will see an explosion of new editions and apps for the tablet market which will play a key role in the industry. Which is good for photographers, as the back-lit screens provide a sumptuous experience on which to present work.
That online presence has led to photographers filing many more pictures from stories than ever before. Online picture galleries require multiple shots from one event and then there is the move to video, something the NCTJ offer as part of the course.
Whyld has been involved in this area, having shot some of his pictures of the summer riots of 2011 on a mobile phone, and subsequently shooting a follow-up piece using video and some innovative 3D stills.
Once the camera he was using had the facility to shoot video, he felt he ought to learn how to use it.
"The hardest thing for a photographer shooting video is not the framing, it is the sound," he said. "You need to know about microphones, and as a photographer that is not natural to you. You can frame a picture and make it look beautiful but if you can't hear what they are saying it is a waste of time. So think of the audio first, as regardless of how good the picture is if you can't hear what they are saying you are wasting your time."
Peter Nicholls, of The Times, did add a note of caution. "The reality is that on a day-to-day basis it is hard to do both video and photography at one time. The job is tough enough so you have to concentrate on that. Everything will suffer if you try and shoot video, both will be a compromise, so nail it by sticking to one."
Looking at his work, it's clear to see that it is a path that works very well for him.
"Part of the fun about being a journalist is that you get to look in to other people's lives," said Mr Keene. "You can knock on a door and say 'I'm from the local paper and I want to write a story about you' and in my experience they will, generally speaking, bite your hand off. What you need is passion, energy and enthusiasm to be the eyes of your readers."
Despite the advances in technology, the move from black and white, to colour transparency, then negative, digital and now video, it seems the core aspect of the job remains the same.
You can see Martin Keene's selection of the best pictures from the PA Archive in a previous post.