Meet the Olympians of 1948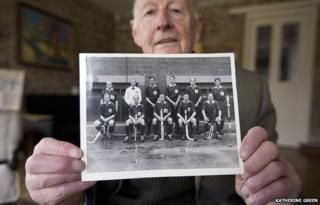 As the Olympic torch weaves across the country, the London 2012 Olympics draw ever closer. Yet, turn the clock the other way, keep going, and eventually you are back in 1948, the last time the Olympic circus came to town. But things were very different then, as the country was recovering from a world war and the Games were not as they are today.
Life for the athletes was very different too, as many were working full-time, or raising a family as they trained. They were unpaid, with limited funds, and sponsorship was not as we know it today. Yet the core principle was the same - to train hard, with total dedication to your chosen sport, and try to be the best.
Photographer Katherine Green has spent six years tracking down some of those who took part in the 1948 Games, and recorded their stories. When she first approached them in 2007, the athletes were often quite bemused, she tells me. "They hadn't had any interest for many years, but I noticed, the last couple of years, many of them had become used to the media attention."
Green always works in the athlete's home, feeling it gives them a sense of place within the frame, and also ensures they are comfortable about the process.
Along the way, she has met many fascinating characters. Some of them went on to pursue a career in sport, while others moved to different things, either through choice or lack of funds. Yet there have been surprises too.
"Basketball player Lionel Price cracked open a bottle of champagne for me at 11am," says Green. "He grew up in Soho and loved attending a couple of theatre shows a week. He was really good fun and quite flamboyant."
Denise St Aubyn Hubbard also made an impression. A high diver in the '48 Games, she went on to be the only female skipper in the Royal Navy Auxiliary Service for eight years, and sailed single-handed across the Atlantic at the age of 64.
"What's been amazing is the modesty that everyone I have interviewed possess," says Green. "It's been really moving. Not only that, but also how many of them face the same frustrations and difficulties that any older people do."
It's an engaging piece of work, with delightful portraits alongside recorded interviews with the athletes who talk of their experiences.
A copy of the publication 1948 Olympians is available from the crowd-funding website Unbound.
All contemporary photographs and audio copyright Katherine Green.