Students of the street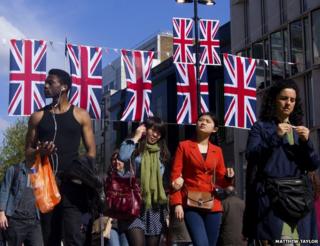 The London Festival of Photography returns for its second year in June comprising 18 main exhibitions with further shows, workshops and talks going on throughout the month.
Each year it also organises three photographic competitions, one of which is the Student Street Award, and this year I was invited along as one of the judges.
Our role was to select six portfolios to go forward to the final round which are to be exhibited at Orange Dot Gallery in Bloomsbury, plus each student would be offered the chance to attend a workshop with photographer Peter Dench, whose latest work England Uncensored I wrote about recently.
The submissions ranged widely in quality, style and impact making the final selection a tough one. Some entries fell in and out of the final six as the judges debated the various entries before managing to agree. I think in the end we came up with a good mix of work and nothing too obvious. Each photographer had their own vision and way of interpreting the public space through their lens.
The students all attended the workshop with Dench earlier this month and I asked him what he made of the their work and what advice he offered.
"They had a visual maturity that surprised me and approached the workshop brief with thoughtfulness, enthusiasm, diligence and good humour," says Dench. "During the workshop I pointed out that they had to be a bit more ballsy in their approach to street photography and to hunt a picture rather than wait for hours or gather images from distance; we didn't have time to wait for hours for 'the shot'.
"I also explained that photography should be an enjoyable process and humour an engaging tool in photography to use as a message.
"During the curating of the exhibition at the Orange Dot Gallery there was an understanding for the need to collaborate to produce a coherent show; generally they took criticism and suggestions well and there was an element of healthy competition to show their work to its potential; after all, there's £1,000 to be won, and we could all do with that."
I also contacted the six students and asked them to say a little about what drew them to photography in the first place, as well as outlining their current project and offering their thoughts on the workshop .
Jake Burge
Seeing my dad's travel slides when I was younger got me interested in photography, plus I like the the straight forward method of clicking a button as I can't draw or paint, but found that using a camera can be just as creative. There is a lot of freedom in street photography and you never know what you're going to find.
The pictures I submitted were part of an on-going project, Private thoughts: Public places. Whilst in Tokyo I began noticing a lot of people on their own who seemed to be daydreaming or in deep concentration surrounded by manmade city environments. After seeing a first few test shots I was hooked on finding more people in these reflective states. The style is quite formal and composed, almost giving it a staged feel whilst still capturing a spontaneous moment.
Modern life is, for many of us, a daily assault on the senses. But we quickly grow accustomed to the noises, sights and smells, passive to the billboards and de-tuned to the snatched sentences of strangers' conversations. We navigate packed commuter streets on auto-pilot; arrive at our homes and offices with scant recollection of the journey itself.
Whatever is happening in the external world we all at times retreat inwards. Sometimes it's because of the all too familiar; the daily rituals we all observe and repetitive tasks that our memory simply doesn't need to preserve another record of performing. Sometimes it's to escape, safe inside ourselves. It's these moments of contemplation I have chosen to document. People in public places with private thoughts.
The workshop with Peter took me out of my comfort zone which helped me to be more confident with my approach to street photography and not to worry about getting in closer to the subject. The crit with the other finalist also helped to focus my project and edit much more confidently.
Felix Davey
Photography makes sense of my long overland journeys in untrammelled parts of the world and helps to fulfil my genetic compulsion to tell stories. The idea that I could scrape by financially, while doing what I love, came later and is somewhat arbitrary. What fascinates me about the street is the notion of infinite possibilities.
My photographs in the exhibition are from a recent trip to Iran. I was working on a story about youth culture, focusing on Persian rappers and illicit lovers across the country. The images I am exhibiting were made during the moments in between as I tried to make sense of this socially complicated and culturally rich environment. The work addresses the tensions and ambiguities that appear in the everyday life of a country that is as beautiful as it is surreal.
The workshops with the student award were a great way to step back from the work and have other people contribute their thoughts in a constructive and collaborative environment.
Giulia Manzione
I think there are infinite stories out there waiting to be told, stories of social injustice, friendships and family stories and I believe photo projects and photo books are some of the better ways to capture and share these stories.
The street is where the stories intersect and where people converge in time and space and cross paths with others. As a photographer I'm there to capture this process in a personal way, which can be at times ambiguous and open to different interpretations.
The images I submitted are part of a larger project that I started to shoot when I moved to London last September. The project brings together personal memories, people I live with, but also perfect strangers which I briefly crossed paths with. The final outcome is a totally subjective, personal and certainly incomplete picture of my time in a new city which can be both hostile and welcoming.
The workshop with Peter helped me in losing some of the restrictions and fears I used to have whilst photographing people in public places. Discussing the way Peter works also made me more aware of the social value of such projects in the long run.
Heather Shuker
Originally a Business Studies graduate I fell in love with photography in 2003 after spending a year volunteering for a charity in Sierra Leone. Starting with short courses at Central St Martins, followed by a post-graduate degree at the same institution and a photography MA at Brighton University, all the while taking any form of commissioned photography work available, my plans to "be a photographer" began to take shape.
As a photographer, I am particularly partial to the street, an environment where things are constantly changing and every photograph is unique, a brief moment in time when all the necessary elements come together. Working on the street is extremely challenging, both technically and physically, and requires determination and confidence.
Street photography for me is all about people; I photograph "life" and "happenings", my approach being that of the unobserved observer, exploring everyday gestures and interactions to reveal people as they truly are. My photographic work has required me to question the boundaries between what is considered public versus private - particularly my series focusing on girls in nightclub toilets, and more recently my work featured in the exhibition on the topic of public smoking.
It has been great working with Peter Dench, as I have been an admirer of his work for some time. Peter's tips on how to achieve better street photographs have become a real help in the pursuit of "that photograph", such as, "if it moves, follow it - get in as close as you can" - not a bad rule, considering he has only been punched once.
Peter's tips have served as a great guide. Street photography shapes you as a photographer, giving you confidence to carry on trying new things, new angles, and pushing for 'that' superior image.
Matthew Taylor
As a child I was fascinated by my dad's Pentax ME Super SLR, so maybe my interest is genetic. I loved to turn the dials, press buttons and just see what would happen and I haven't stopped since. I remember creating an image of myself hanging on a washing line in the middle of the laundry; and that was long before the days of digital cameras and Photoshop.
Street photography interests me because it offers the chance to unite my love of all things visual with my curiosity about the lives of the millions of people I share a city with. Who are they? Where are they going? What are they doing? What are their hopes and fears? Can we get clues from looking at them?
Today I work using a mixture of high-tech and low-tech equipment (including mobile phone cams), keeping an open mind, following my intuition and letting my subconscious tell me when to pause and take a photograph. I think that's the lure of street photography for me: suddenly noticing that I've stopped walking and that the "photographer" part of my brain is telling me to reach for my camera… quickly. There's an adrenaline rush that's slightly addictive.
For the final show I've reviewed my original submissions and edited them in the light of the workshop with Peter Dench. I'm showing six images at the Orange Dot Gallery which I hope take the viewer on a journey through the many facets of the urban street-scene.
When you find yourself on a workshop run by a World Press Photo Award winner who just opened a gallery and is publishing a book, it's easy to feel overawed, but Peter was very down-to-earth and was full of anecdotes about how he gets his images and how he decides which ones make the final edit.
For me the biggest benefit of the workshop was hearing about the psychology and the process of producing top-class work. For example, Peter encouraged us to resist the "rush for validation" and to live with our images privately for a period of time rather than mass uploading them to Flickr and waiting for a reaction. He also suggested building a trusted circle of peers to share images with in order to get honest, considered feedback. One of his images had "brewed" for three years before reaching the public domain.
Before the workshop, I was concentrating on photographing written language in the street-scene but meeting Peter has made me focus more on people as well. It also inspired me to shoot some new images, two of which are in the show at the Orange Dot Gallery.
Paul Walsh
Before I became interested in photography I was originally a landscape painter. I first started to go out taking pictures as research for my paintings but eventually I fell completely for the process of taking photographs and abandoned painting all together. I loved the immediacy of it, the pleasure of being out side and being able use my camera to observe and understand my surroundings.
I enjoy the solitude and the isolation that photography provides, it's my time to think and process what is on my mind. Street photography was naturally a part of this, I could travel and see foreign places and by having my camera and taking photographs I could record what I found, and express what I felt about these places. In recent years my home in England is my principal photographic subject. I am now more excited by what is outside of my own front door, and trying to question what is more familiar to me is a challenging task.
For me, street photography is comparable to gambling (although I don't gamble) in the sense that is incredibly addictive and you never know what you'll end up with at the end of the day. That is why street photography is so compelling.
Working with Peter Dench was a truly memorable experience and a definite highlight of my career so far. He is a deservedly high profile photographer who is open and forthcoming with his approach to photography. Not only was Peter an inspiration but he was also fun to be around. That is what made the workshop such a remarkable experience. Peter made me feel that a successful career in photography was achievable and by sharing his knowledge within the workshop he has given me much to think about whilst broadening my confidence when taking pictures in public.
The photographs I submitted were part of a project I have been working on for the past few months called Lost and Found. I wanted to make a project about being lost in an unfamiliar city and walking its streets to simply experience it. Initially, as research I read a number of books by such writers as Iain Sinclair and Mark Mason. Like me, they also use walking as inspiration to make work.
In response to their writing I decided to randomly place each book I read on an A-Z London and draw a line around it. I then visited London and walked along each line whilst photographing my journey. I did this seven times on seven different days in order to build up a series of images that are fundamentally about the everyday places I walked through.
I was drawn to the everyday surfaces and objects that surround us in the city as I believe they offer us indexical clues to the people who live there. Ultimately I hope that what people will think about when they see the work is the way that walking can open up the world to us, and through closer observation and the motion of walking, we may come to know the places where we live in a more profound way.
At the moment I am incredibly busy as I am coming to the end of my studies at Brighton University. I am currently involved in a number of walking photographic projects and soon hope to be able to publish the completed work in an artist monograph. I also hope to continue exhibiting and gain photographic commissions so I can be involved in new and exciting projects. I love the process of taking photographs and am incredibly excited to be part of the London Festival Of Photography.
The London Festival of Photography runs throughout June and details can be found on their website.