Dana Popa returns to Romania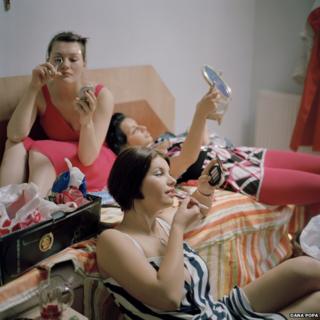 It is more than 20 years since revolution and reform swept through Central and Eastern Europe. First in Poland and Hungary, then the wall that divided Germany for so many years came tumbling down, and on Christmas Day 1989 Nicolae Ceausescu's long running regime fell in Romania.
It was far from a peaceful coup, with many killed in the fight for freedom, and though there are of course conflicting views on the events that led to Ceausescu's execution, what is undeniable is that the changes in Europe that year created the map we know today. In Romania, as with many of the former eastern bloc countries, a new generation have since emerged with no memory of the communist country and oppression of that time.
Photographer Dana Popa was born in Romania in 1977 and so fairly young when the first shots rang out. Her latest body of work, After the New Man, explores the legacy of the communist years, and like her previous project, onot Natasha, it uses photography as a way in to a complex subject.
"Twenty years after the fall of the communism I needed to go back and investigate the first generation that was born at the same time Romanians gained their freedom," she told me. "For me they were the lucky generation, whilst their parents are doomed to live between two worlds, communism and capitalism."
Popa explains that the current generation was raised into consumerism, noting that even amongst themselves they would often speak English.
Her project mixes photographs of those young adults with landscapes that seem to ooze with the grey decay of a communist empire, all alongside photographs from her family album. The photographs are a feast for the eye, rich in colour and taken with an unforced style and the end product of many months, indeed, years making the right contacts and opening doors. "I always like to wait for that moment when I think they are revealing themselves," said Popa. "They don't hide anything anymore; they allow me to see them as they are. That's what I like to think."
Popa spent two years meeting young people, understanding what it means to grow up now. "Connected to the world via internet, with access to the latest news, and freedom to travel anywhere in Europe, with possibilities of driving convertible cars in their 20s and studying abroad, they cannot imagine the grim realities of long queues for milk, limited food supplies and rationing of petrol," says Popa.
"Nor can they imagine disappearances without trace, the political prisons and labour camps, the everyday censorship with bans on foreign media and travel. This is a generation that has no memories of communism. It grows up with no sense of the immediate history and its impact, like a soul who does not identify the body it is incarcerated in."
That "missing past" is actually all around in the landscape which portrays a different era and time, the decaying concrete blocks clashing with the youths getting ready for a night out.
"The communists 'Golden Era' constructions are strong," says Popa. "I am not referring only to the most obvious visual legacy: the blocks of flats webbing through the country, but also to mentalities and habits."
"This series talks about how these young people in search of an identity navigate through the juxtaposing layers of the past and the present, how a coherent image is constructed out of fragments of memory and 'Western'-inspired bits of lifestyle and aspirations, and how this ostensibly contradictory synthesis gives them a sense of displacement."
I found the inclusion of the archive shots of Popa's family fascinating, especially the one of her mother, which had it been in colour could sit alongside the modern pictures. I asked her if she saw it that way, or do they represent a past that has now gone? "I felt my visual interpretation of the linear present needed a tangible reference to embed in," Popa says.
"It is a past that is gone now. The propaganda and the rules of that society were absurd. But at the end of the day as many differences I saw between this generation and the generation of our parents, there are strong similarities, too, and by bringing in the archive I started a visual dialogue between the two worlds."
After the New Man is currently on show at Foto8 gallery in London until 26 May and you can see more of Dana Popa's work on her website.