Conflict recorded on the infrared spectrum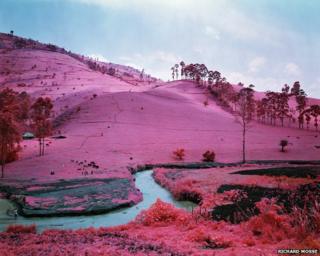 A Martian landscape or something more sinister? It is in fact a picture of the Democratic Republic of Congo taken on infrared colour film by photographer Richard Mosse, and currently on show for the first time in the UK at the Open Eye Gallery in Liverpool.
Richard's photographs depict a nation during a time of conflict, from landscapes to rebel groups, against the backdrop and trauma of war.
The pictures are beguiling, and very challenging indeed. They were taken using a discontinued military surveillance technology - an infrared colour film called Kodak Aerochrome. Originally developed for camouflage detection, this aerial reconnaissance film registers infrared light, which is invisible to the human eye, in vivid hues of lavender, crimson and hot pink.
Richard kindly offered his thoughts on the work and the role photographers can play when witnessing war.
Richard Mosse
I originally chose the Congo because I wished to find a place in the world, and in my imagination, where every step I took I would be reminded of the limits of my own articulation, of my inadequate capacity for representation. I wished for this to happen in a place of hard realities, whose narratives urgently need telling, but cannot be easily described. Congo is just such a place. Its endless cycle of wars seem essentially intangible. It is a protracted, complex and convoluted conflict, fought by rebels of constantly switching allegiance. These narratives, though brutal and tragic, are not tales that are easily told.
My decision to begin working in Congo came at a stage in my practice when I wished to press reset. I was becoming too familiar with my ways of working and wanted to throw my past methodology to the wind. Congo was an appropriate place to do that, as I had never worked there before, knew no one, spoke no French, and had heard that travel there would be extremely difficult.
Really I had two subjects. One was Congo, of course, but the other was photography itself. The decision to use infrared film was in keeping with this intuitive desire to negotiate a broken interface. I was deeply unsatisfied with documentary photography and wished to push it well out of its comfort zone.
Joseph Conrad struggled with the same sort of problem here in Congo a century before. He described a very concrete humanitarian disaster in language that verges on the abstract and on heightened sensory impressionism. Heart of Darkness is written in an oppressive and sinister tone: "We were cut off from the comprehension of our surroundings; we glided past like phantoms, wondering and secretly appalled." Conrad pushes language almost to the breaking point, struggling to recount an elusive darkness. "It is like another art altogether;" writes Conrad, "that sombre theme had given a sinister resonance, a tonality of its own, a continued vibration that would hang in the air and swell on the ear after the last note had been struck."
I felt Aerochrome, Kodak's discontinued colour infrared film, would provide me with a unique window through which to survey the battlefield of eastern Congo. Realism described in infrared becomes shrouded by the exotic, shifting the gears of Orientalism. Traditional documentary evidence is pushed unwillingly into fiction, and an unsettling pink world of magical realism is formed. It's not unlike Werner Herzog's ecstatic truth.
Surveillance technology
This special film gave me a way of thinking through my role as a white male photographing in Congo with a big wooden camera. By extension, it allowed me to begin to evaluate the rules of photojournalism, which always seems to be thrust upon me in my task of representing conflict, and which I wished to challenge in my own peculiar way.
As my understanding of the situation deepened, so I felt that this precarious aesthetic strategy actually corresponded with certain specifics of my subject. I learned, for example, that a Rwandan Hutu rebel group that I sought to photograph moves nomadically through the landscape, emerging only to loot or ambush before disappearing back into the bush, living in a state of peripatetic exile. In spite of the pervasive presence of these rebels, dispersed widely through the region, they go virtually unseen. The infrared film medium - a surveillance technology created for the purpose of registering the invisible and detecting an enemy hidden in the landscape - began to take an active role in my imagination.
The unseen, the hidden, the invisible - these are all integral aspects of Congo's war. In Iraq, for example, you have concrete apartment blocks smashed open by Hellfire missiles. The war's trace is easy to read. You just need to point a camera at it. But in rural Congo, the architecture is comprised of wattle huts, provisional structures that are swiftly abandoned and almost as quickly swallowed by the equatorial jungle. The rebels prefer to save their bullets, tending to use white weapons (from the French armes blanches, which are bladed weapons whose white metal reflects the light) over firearms, leaving almost no perceptible trace on the land.
Constructed nature
The International Rescue Committee estimates 5.4 million deaths of war related causes in eastern Congo since 1998. More conservative estimates put it at less than half that, which is still a staggering number of victims. Yet Congo barely figures in our global consciousness. Infrared's mediation of an invisible world, unseen by the human eye, gave me the space to reflect on this forgotten conflict and paint it in vivid new colours.
The infrared film also serves to clearly emphasize the authorial hand. The very unusual colour palette raises a red (or pink!) flag to viewers, asking them to consider the constructed nature of these, and by extension all photographs.
Susan Sontag wrote that photojournalists generally choose to, "fly low, artistically speaking" in order to avoid confronting the problems of making photographs of human suffering. They deliberately de-aestheticize their imagery, adopting a grainy, blurred, black-and-white style, deliberately avoiding beauty.
I believe the genre was born with Robert Capa's D-Day photographs. But let's not forget that Capa's photographs from that day were sent back to the lab in London and accidentally cooked in the processor by the lab technician. This blown-out, lo-fi style of war photography was an accident. But it is now the received form, contrived and coveted by many war photographers, and one we tend to believe unquestionably has the greatest claim to veracity. This style is just as constructed and synthetic as any other, but it lulls us into believing it is somehow more transparent, organic, therefore true.
I am interested in pushing a lurid, disturbing beauty in my portrayal of Congo's war not just to capture the heart.
Conscience or consciousness
My approach has sometimes been dismissed as morally irresponsible. I find it fascinating that colour can provoke such a response. While my work is documentary in spirit, I have struggled with the idea that documentary photography, regardless of the photographer's concerns, arrives pre-loaded with an implicit assumption of advocacy. My work is not a performance of the ethical. I'm concerned less with conscience than with consciousness. I feel it's important to remember that any account we make of Congo is a Western projection.
Online, among bloggers, tumblrs, facebookers etc, Infra has had its own quite active life, circulating virally. Though this is completely out of my control, I feel that if the photographs can surprise and seduce someone into taking a couple of minutes to think about Congo and its pernicious cycle of wars, then the work has succeeded in its own small way.
Experienced at full scale in a gallery context (the prints are more than 2x2m (6x8ft) in size and immensely detailed), viewers are sometimes disturbed to find themselves seduced by the beauty of images made in a place of profound human suffering, hunger, massacres and human rights violations. Perhaps that moment of anxiety is the spark that can allow the viewer to step back from himself in the act of viewing, and begin to reflect on the ways in which documentary photography operates.
Infra By Richard Mosse is on at the Open Eye Gallery in Liverpool until 10 June 2012.