London 2012: It's not the winning but the taking part that counts...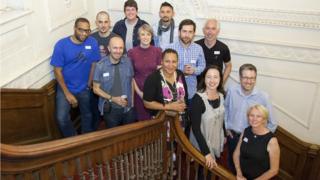 With the Olympics nearly upon us many photographers have turned their attention to the state of the nation's sporting prowess.
One such group is called Image17, a collective of photographers based in Waltham Forest who were commissioned by the borough's Council to create a body of work called Taking Part. The project sees the photographers documenting more than 48 community sports groups in Waltham Forest with the resulting pictures being exhibited at various locations in the run-up to the 2012 Olympics.
The focus of the project came from Nicola Tree who was inspired by the Olympic ethos of "it's not the winning but the taking part that counts". "I wanted to produce an all-inclusive, community based photographic record of local sports focusing on the dedication and talent in the Borough," she said. "Its aim was to counterbalance the celebrity culture surrounding the elite and extremely talented athletes that the world will be watching throughout the games this summer."
Each photographer tackled a number of sports, and here they explain a little about their work alongside one picture from their projects.
Katherine Green
"What I found particularly inspiring during this project was the work that the volunteers at both Vestry Elite Football Club and County ABC Boxing do to support and inspire local young people that might be particularly vulnerable.
"Through training; teaching discipline and respect; and through having positive role models and mentoring; the dedicated volunteers that run these groups made a huge impact of these people's lives, building confidence and self esteem, giving people a sense of purpose and in doing so, breaking associations with gangs, or preventing the young people from the need to associate with gangs in the first place.
"It's so important to have those role models in our local area, these volunteers are dedicated and committed and much of their work goes unseen and unfunded."
Nicola Tree
"Not being a particularly sporting individual myself I was often left completely in awe after working with the clubs. The pride, dedication and sheer hard work that happens on a weekly basis was inspiring, and I wanted the images to reflect this.
"On a less serious note, I received an email from one of the club secretaries who hadn't been there that night saying: 'It was funny hearing about the shoot on Friday. Some had to swap goggles because it clashed with their costume, others were wearing their most fancy costumes and I heard about one swimmer that was so busy looking at the camera that they fell in off the blocks instead of diving.' As the photographer I has been completely oblivious to any of this."
Udall Evans
"From seven-year-olds competing in Judo to mature ladies partaking in Bowls, my main goal, after taking to all of the people I have encountered over the past year, is that these events need to be championed and highlighted, not only at this important time for the borough, but especially after the Olympics has ended."
Dan Green
"Over a period of six months I photographed four local sports groups in and around the Chingford area for Image17's Taking Part project. Through photography I saw first-hand how every participant shares a passion and enthusiasm for their chosen sport and how friendship and camaraderie can provide a few hours of escapism from our daily lives.
"With an exciting summer of sport ahead of us, I hope that the Taking Part exhibition not only demonstrates how sport brings us closer together but also provides a showcase for the fantastic sporting opportunities available to all in the local community."
Fabien Ho
"Photographing the Leaside Canoe Club members was exciting as I got to go out on the water with them and experience for myself the sport first hand. It was also inspiring to be in the company of Olympic 2012 hopefuls who were getting ready to compete in the world championships. Their stories of sacrifice for the sport were compelling and I hope my images capture their professionalism, ambition and determination."
Matt Thompson
"All of the footballers were really proud and eager to have their picture taken. My favourite shot is the boy sitting in the ramshackle stand with turf on it. I like the atmosphere of it and again his innocence."
Jo Sealy
"It's wonderful to watch the young trampoliners hang onto their coach's every word. She's a hard task master but they really respect her and want to do their best, I hope I've captured that."
Matt Scandrett
"In this sporting age of corporate greed, slick advertising campaigns and multimillion pound sponsorship deals, it's easy to forget about the thousands of people who take part in amateur sport and the phenomenal work that goes on at grass roots level across the entire country."
Paula Smith
"The people and groups photographed for Taking Part are amazing. They are so dedicated to their sports whether it's to win medals, keep fit, or simply have fun."
Claire Byrne
"The Archery club shoots both target and field Archery. It felt quite surreal watching people shoot foam shaped exotic animals in the Forest, the leopard seemed especially out of place. However, it looked extremely good fun, as well as challenging and skilful."
Mark Burton
"When I began this project I wanted to photograph activities that made sure everyone was included. After all, the ethos of the Olympic and Paralympic Games is that they are for everyone and are about bringing people together.
"So I initially got in touch with Waltham Forest Council Sports and Leisure team, Tottenham Hotspur Foundation and the Leyton Orient Community Sports Programme. They invited me to their various activities and I had three fantastic experiences meeting the participants and the people running the events. I also got to see how important the volunteers were too - people who give their time to make sure everyone can take part in such a wide variety of sporting activities."
Simon Warren
"Working on The Taking Part Project has been a wonderful experience for me and has pushed me outside my comfort zone as I normally shoot architecture. As a keen cyclist I really enjoyed going out and capturing the cycling group, and the fast and sometimes quite scary ice hockey shoot was great fun. I love the camaraderie that the group has and the support from its members."
Paul Greenleaf
"Being an outlying London borough comprised of both built-up urban areas and large open spaces I decided I wanted to portray the relationship between the participants and the diverse local landscape found in Waltham Forest. Equally, as time plays a critical factor in sport I wanted to visualize this in my pictures. Some aspects of training can be extremely long and arduous whilst an athletes performance is measured in split seconds and a football match can be won or lost in an instant."
You can see more of Image17's work on their website.