Natasha Caruana's secret subjects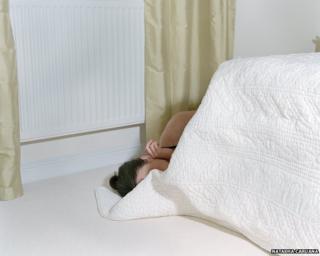 Artist Natasha Caruana is not afraid to use photography to confront difficult subjects and a new exhibition at Photofusion in London brings together a number of her works that do just that.
Combining found images, snapshots and staged pictures, the exhibition comprises four bodies of work: The Other Woman, The Clandestine Purse, Married Man, and the more recent Fairytale for Sale.
"For me the medium isn't important. I select how to produce my work on a project-by-project basis," Natasha told me. "But I do enjoy pushing myself into new territory - such as the found images, or working with audio - I work best when I'm feeling uncomfortable and challenged."
The work is certainly challenging, both from a content point of view and some of the methods used to obtain the material.
Her latest work is called Fairytale for Sale and consists of a collection of photographs taken from online adverts of brides wearing now redundant wedding dresses. The faces of the brides have been scratched out or obscured, and the dresses, symbols of an idealised view of western life, are reduced to commodities. Each one is on sale, though the reasons why vary, from divorce to a simple desire to de-clutter.
Natasha said: "The women were eager to sell their dress to me, and through an exchange of emails I was able to obtain the photographs, along with the reasons why they were selling their dress. These answers I use as a text installation alongside a collection of photographs, and their words go someway to explain why they have obscured their faces in such bizarre ways."
The Other Woman is a more conventional photographic project and was made back in 2005. The pictures portray women who have experienced affairs with married men and was inspired by a personal experience.
"The work was made in 2005, before I realised the power of the internet as a research tool. I placed adverts in Time Out, local classified newspaper sections and shop windows.
"I didn't need to persuade the 'other women' to pose for me. The shoots were created through collaboration between the subject and myself, and we discussed the location and pose beforehand. Some shoots were 30 minutes and others were shot over two days, it depended on the subject."
When I asked Natasha if the project was about her moving on, she told me: "No I didn't use it to move on. But through the course of the project I did end up doing so. I was interested in how I suddenly was given a label and wanted to explore how other women felt. Every story is different but society uses the same wording - mistress, bunny boiler, home wrecker etc."
"One of the subjects was an older lady. She was a real character and not as you would imagine an 'other woman' to be," said Natasha. "Our shoot was really fun. In contrast, one of the younger subjects who got involved with the father of the child she was babysitting was very emotional. But it was rewarding as she was able to confide in someone about her experience."
The other photographic part of the show looks at the Married Man series, which depict some of the 80 dates Natasha went on with married men, each one organised through dating websites. The identities of the men are not revealed.
This again uses a different photographic technique, snapshots if you like, often matched to audio recorded surreptitiously during the dates. The work questions the motives of both the men and the artist.
Natasha said: "On the dates I used a fake name but I would say I was a photographer, and my getting out a disposable camera each time became my alibi as they thought I was a harmless amateur. I was only able to take one or two shots per date so they didn't ever get suspicious.
"Yet on one date in Soho a man did get suspicious and asked me if I was an undercover reporter. This was one of my last dates so I suppose I was a bit on autopilot by then, and maybe didn't seem that genuine anymore."
The work is both challenging and engaging, though some will feel it crossed the line of what is acceptable and this is something that Natasha had to work through.
"I spent a long time considering what to do with the hours of audio material," she said. "I tried different edits... but I never felt comfortable in the power I had to manipulate the material to get a particular response from the viewer.
"In the end I realised I wanted to use the audio (although yes, ethically immoral), and I just used the parting 30 seconds of us saying goodbye. I used this material as it was, unedited and un-tampered.
"I also justify the work by considering that the men are cheating on their wives, and I'm cheating on them. So who is in the wrong? Yes two wrongs don't make a right, but I hope the work opens a unique conversation in the viewer's mind, given their personal experience, ethics or morals."
You can see more of Natasha Caruana's work on her website, and her exhibition, Married Man and other stories is on at Photofusion until 23 March 2012.