The story behind the news pictures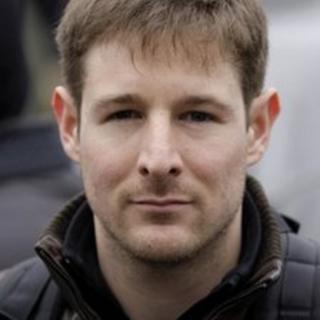 In the third of a week-long series by guest bloggers, photographer Matt Dunham looks back at his year covering the biggest news stories for the Associated Press news agency(AP).
Matt Dunham is a 33-year-old British photographer who studied Documentary Photography at the University of Wales in Newport and has worked on the staff at AP since 2005. He is best known for his picture of Prince Charles and his wife Camilla when their car was attacked during the student protests in London in December 2010.
Here's Matt's selection, starting with a series from Japan following the earthquake and tsunami that struck the country in March.
Japan earthquake
People residing in the earthquake-prone regions of the world live day-to-day with the reality that one could hit at any time. The earthquake that struck off the coast of Japan on 11 March was the biggest to hit the country since modern records began and killed more than 15,000 people.
I was covering an ice skating event in Sheffield when I received a call from my regional boss at AP, Tony Hicks. The Department for International Development were organising a flight for British search and rescue teams to deploy to Japan and they had room for a number of media to go with them. The flight was due to leave fours hours later from Manchester Airport.
I wasn't exactly kitted out with the necessary equipment for such an assignment as all my camping stuff was at home in London. However my text colleague David Stringer was making his way to the airport from London with a Bgan (Broadband Global Area Network), a satellite internet connection device, which would enable us to transmit our pictures and copy, and I eventually managed to get us some gear at a camping shop.
We landed at a US military base in northern Japan and along with the rescue teams we were driven to the tsunami affected area so we could co-ordinate with the Japanese emergency services.
We set up camp in a gymnasium that was absolutely freezing. We asked ourselves how anybody trapped in the remains of a building could survive the freezing temperatures at night.
The rescue workers were desperate to find survivors. But after three days of finding nothing but bodies, the decision was made that they would leave Japan as they deemed the chances of finding anyone still alive extremely low.
This was not the end for me though as I was assigned to join AP's team of Japanese staffers. My photographic colleague Shizuo Kambayashi and reporter Foster Klug picked me up and we drove to Kesennuma where a giant vessel had been washed ashore. It was unbelievable seeing the strange places where cars and boats had ended up, coming to rest on some of the concrete buildings that remained on their foundations. It was a way of indicating just how high the tsunami waters rose.
Royal wedding
I've purposefully chosen to reflect on this image of Kate looking back rather than the kiss picture, as that was something everyone was expecting to happen, drawing the inevitable comparisons with the kiss Charles and Diana shared on the same balcony 30 years earlier.
I like this frame as it is an unexpected moment where Kate gives the assembled masses a conspiratorial look of happiness and confidence as she turns away with William to walk into her new life as a future queen.
The picture was taken from a tiered platform put up on the Queen Victoria memorial, where 64 positions had been carefully marked up for photographers directly opposite the balcony where the royal couple were expected to share their first public kiss as husband and wife. We were asked to arrive at the memorial at 6am with the royals expected to make their balcony appearance just under seven and a half hours later. One relief was that a toilet had been put in our media enclosure which meant we could take drinks and snacks to last the day.
This picture was shot on a Canon 1D MkIV camera with an 800mm long lens to give a close-up view of the couple, from what I'd guess was the 70-or-so metre distance between us. One problem with taking photographs on such a long lens from a distance like that is having to deal with atmospheric heat haze. This makes the images appear less sharp than if you were standing much closer. The heat haze was also intensified by the crowds that were standing between our elevated platform and the forecourt of Buckingham Palace.
I had also set up three other remotely triggered cameras with different lenses to give a wide, medium and another tight view of the balcony scene. They were all connected with cables so that when I took a picture with the main 800mm camera all the others would fire at the same time, capturing the same moment.
When working for an international news agency on an event with such a global interest the images need to arrive at the picture desks of AP's subscribers as quickly as possible. This was particularly important for countries in different time zones where the timing of the kiss meant that it needed to make their late night printing deadlines.
To make our delivery as timely as possible, AP and the other large news agencies paid to have broadband speed internet lines installed beside our platform. Trying to send pictures using the mobile phone network would have been virtually impossible. When crowds of thousands assemble it tends to overload the nearest mobile phone masts, but by plugging the internet cable into a module attached to my main camera I was able to transmit pictures directly to our office in Camden where a team of editors were waiting to crop, edit and caption before transmitting the pictures to our clients.
I'm pleased to say everything went well with the photography that day, which was a huge relief for me. Text journalists can reflect on things after they have happened but as a news photographer if you miss an historic moment there is no second chance to capture it again, which is why it was very kind of William and Kate to kiss twice that day. We still needed to capture both kisses, and it turned out the second kiss made a better picture as it had the little bridesmaid covering her ears.
Phone-hacking scandal
In Britain we have a genre of photography that is regularly practiced by news and celebrity photographers alike, the car shot. When waiting for a person in the news agenda sometimes the only way to take a photograph of them is through the window of the vehicle they are travelling in.
Car shots are not the kind of pictures individuals would hang on their walls as they often capture people at a low-point or time of crisis in their lives. In many other countries, photographers are given access to take pictures inside courts, parliaments and committee hearings but in Britain this is not the case.
If people choose to drive away from gated entrances or underground car parks the only visual possibility left by that stage is a car shot for the photographers, and footage of photographers taking the pictures for the broadcasters. Stories need visuals as readers and viewers want to see what's happening.
The two most important technical aspects to get a good result in these situations are the flash settings you need to penetrate the window, and the focus of the lens.
When word came through of the News of the World's closure amidst the phone-hacking scandal, the media descended on the Wapping site to report on it. As a photographer you need to think of everything you can use to illustrate it as effectively as possible. Images of the building, News of the World signs, the multitude of television sat' trucks, television correspondents speaking on live broadcasts, News of the World employees hugging and drinking outside the pub next door and ideally you'd capture the main protagonists, Rebekah Brooks and James Murdoch (Rupert Murdoch was at a conference in the US on that day).
On this day a number of photographers were standing on a street corner with a view of the building's underground car park exit as we suspected Brooks and Murdoch would depart from there. Members of the Sunday tabloid's staff had told us they were still in the building so we had to wait it out. It took a fair while for them to leave and it was getting later into the evening by which time some of our group had left.
James Murdoch was the first to leave and then a little while later Brooks came out. Her departure caught us by surprise as word got out that she had already left and so with British newspaper deadlines approaching we were sitting on the pavement with heads in laptops sending the photos we'd taken of Murdoch. One observant member of our group spotted a vehicle pull out from the car park and shouted to the rest of us, something it's always nice to do for one another.
The focus of my picture is off, it's a muzzy, but that doesn't lessen the fact that her gaze comes from a time of crisis in the history of British newspapers.
Norway attacks
I'd been in Norway for three days covering the aftermath of Anders Behring Breivik's attack in Norway. Breivik had set off a bomb in Oslo before heading to the island of Utoeya where he killed at least 68 people at an island youth camp run by the ruling Labour Party.
This campsite jetty across the water from the island had become a place people came to lay floral tributes in memory of the victims. The beautiful scenery and calm sound of the water were so at odds with the horror that took place on the island.
By the time I took this picture AP had flown in four photographers to Oslo so we could spread ourselves around, each one covering different aspects of the story. On this day when Breivik was due to appear in court for the first time, a minute's silence was planned across Norway and thousands of people were expected to attend an Oslo 'Rose March' memorial in the afternoon. Utoeya was an hour or so drive from Oslo where we were all staying. I'd taken our shared hire car down to the mainland area opposite the island and had spent most of the morning using a 500mm lens with a 1.4x converter to watch the police who were still carrying out investigations on the island.
As the time for the silence approached another British photographer Jeff Mitchell and I went down to the jetty to see what would happen for the minute's silence. Various people were gathering at the water's edge, a mixture of campers, relatives and members of the media.
Photographing a solemn scene like this is emotionally tough. We are very aware of how people are feeling and have to find a balance for how close to stand when taking our pictures. How can you do anything else but empathise with their loss, or reflect on how you would feel if one of your loved ones had lost their lives on that island?
World Athletics Championships
The one track and field competitor even non-athletics fans have heard of is Usain Bolt. The men's 100m final is billed as the showpiece of any high-profile athletics meeting, and at the World Athletics Championships in Daegu, South Korea, it was reigning Olympic champion and world-record holder Bolt who was the man the spectators came to see.
Sports are interesting to photograph in the sense that there is always the potential for something unexpected to happen, even with an event that lasts less than 10 seconds.
We covered this race with a team of photographers, all from different parts of the globe, and each taking a different vantage point dotted around the track. The prime photographer position, and number one pressure spot, is sitting head-on to the finish line where you will get the clean picture of the winner crossing the line towards you. My colleague Anja Niedringhaus, who's also a hugely talented and experienced conflict photographer, was doing the job for AP on this occasion.
My job that night was to be at the start, to shoot the competitors coming out the blocks and to keep an eye on Bolt as he likes to showboat for the fans and cameras alike. It was, I felt, the least pressured position to be given and one I was very happy with. My Texan colleague David Phillip, who is a top-notch sports photographer and technical whiz, was waiting on the infield beside the finish line to trigger his set of remote controlled cameras on the line, and then do the celebration lap of honour run-round with the winner.
We'd talked about the fact that the rule change meant that one false start and the athlete is disqualified. However slim, there was always a chance that it could be Bolt in that unfortunate position, and on this occasion that is what happened.
The photo here shows Bolt, disqualified, running vest thrown off in frustration, and gesturing as he watches the race on the stadium's big screen by the start. He later overcame the disappointment to take the gold medal in the 200m race and helped set a new world record for the Jamaican men in the 4x100m relay on the last day of the competition. It's not hard to guess where all eyes will be pointing next summer when the Olympics comes to London, and I hope to be by the start for the 100m again, this time not seeing anyone disqualified.
Daily life
Britain's Met Office said maximum temperatures were around ten degrees above normal for September and Londoners flocked outdoors to soak up the sun. The swimming ponds on Hampstead Heath are not heated, and though the temperatures were fine to sunbathe in, the water was incredibly cold. I stayed at the pond for a while chatting to different people and becoming part of the landscape so they were comfortable with my being there.
The longer you spend photographing a scene, the more people become immune to a camera pointing at or around them. To begin with people are usually curious as to why you are taking pictures and ask questions, like who you work for, or how much your cameras are worth. Once satisfied they sometimes pose in a snapshot manner asking you take a picture of them, and finally the novelty of being photographed wears off and they go back to acting naturally again.
The best unposed pictures of daily life happen either when people don't notice your camera or because their attention is focused elsewhere, in this case her attention was on the cold water.
Tomorrow Max Houghton, course leader in MA Photojournalism at the University of Westminster and editor of 8 magazine looks at the ethics of photojournalism.
Related posts: