One Hundred & Forty Characters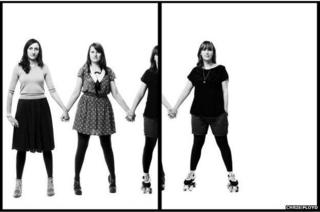 Social networks bring us together, or at least that's the theory. But in that never ending quest for more friends and followers do we ever really connect with those we meet online?
During a moment of contemplation photographer Chris Floyd decided he wanted to know more about a selection of those who followed him on Twitter, and in that moment One Hundred & Forty Characters was born.
The result is a powerful set of portraits, shot in the style of Richard Avedon's American West series where the sitters exist in a bright white frame, separated from their environment, in much the same way they are little more than another name in a box in an endless stream of boxes on the internet.
The work goes on show at Host Gallery in London this week so I asked Chris to tell me more about the project and how the idea had come about.
"I began to realise that the digital revolution that had swept through my world of work, photography, had also killed off one of the aspects that made it so attractive in the first place. Namely, the sense of community that lab culture engendered in the days when we all shot on film and often spent hours at a time hanging out in professional labs with other photographers and art directors," Chris said.
"Although the digital process has been of great economic benefit there was a price to pay in the form of loss of social contact. I now often spend days at a time without leaving the house, hunkered down in my loft office, never opening my mouth to actually speak to anyone, communicating by email.
"It can often be very lonely and this can lead to a strain of melancholia that is not particularly healthy. Well, not for me anyway. I had stopped meeting people in the serendipitous way that frequent trips out used to allow. I felt socially stale and was in the market for new encounters."
What drew you to twitter in the first place, were you instantly hooked?
"A photographer friend in New York was on it already and he sent me an invite to join. I must have followed it through but I can't remember what I thought of it when I looked at it. It is a bit like trying to remember what it was like being born. Your perception and idea of what it is is constantly evolving. I do remember initially getting slightly irritated when people started to follow me though. I think I was probably just using it to see what other people were up to at that stage, rather than as a tool to express my own thoughts or ideas.
"I wouldn't say I got 'hooked' but I definitely realised quite early on how useful it was for crowd sourcing, and picking up a good group of followers was great for when I wanted to gauge opinion on things, be it music, films or which camera to buy.
"It has brought me work in direct and indirect ways. It has also been great for spreading awareness about things I am working on. For instance, I was in Taiwan in April, working for Wallpaper* Magazine and began to tweet silly made up things about Taiwan under the tag #TaiwanFacts. The photo editor of Esquire Magazine saw my tweets and realised she had a job that needed doing in Manila, which is a two hour flight from Taiwan, so she emailed me and asked me if I could go there for her. Without Twitter she'd never have known that I was in the neighbourhood.
"Also, this very project has begot projects. I was just commissioned by Christie's, the auction house, to do the same thing all over again for them by creating a pop up studio at their South Kensington building for the duration of the Multiplied Art Fair, which was a four day bonanza of fine art edition prints, with work from 50 publishers and galleries on show and for sale. I photographed over 300 people through the course of the event and it was a lot of fun, as well as great for building my profile.
"At the end of the day, you have to get out there and create work if you want people to give you work. Above all, be interesting, be interested and do interesting things. I have a silly little mantra about the kind of people I want to photograph: 'If they're interesting then I'm interested.' So why should it not work the other way round for me?"
Back to the project. I believe you shot each person, or group of people, in isolation so the participants were not really aware of the overall project, what was the thinking behind that?
"When I started out there was no grand plan. It was just an excuse to lure people that I found interesting or funny to my studio. It was the encounter I was after. The physical meeting was the thing. A lot of the pictures in the final piece are of people who aren't looking at the camera. This was because I would position the camera on a tripod at waist height and then, with my finger on the shutter, talk to them continuously throughout the session. So what you have are pictures of people who are actually looking at me, as we talk, and not at the camera. The camera has recorded the encounter they're having with me, rather than the camera itself. Not in all, but certainly in many of them.
"The isolation of each subject or group was my homage to Richard Avedon. I'm a huge fan of his work and I loved the way that he would split large groups across more than one frame, sometimes with one particular person split across two frames to intimate that all the people were linked."
How did you select potential participants? Was it fairly random or did you look at your followers and try to get a cross section of people?
"There's a ton of great people out there. I had a hit list of people I wanted from the very start, which I worked my way through. I also knew that I needed to bag some credible names early, in order to give the project credibility with other people later. Then I made some space for serendipity to stroll in. Lots of people who came then went away and tweeted about it. This then brought their followers into the mix, who made themselves known to me and I started to cherry pick some of those."
Why did you choose to shoot it in black and white? Did you direct the shoots or let people offer themselves up to your camera?
"About 99% of my paid work is in colour and I wanted to do something that was pure, unadulterated black and white, very graphic in form. Also, a tweet exists inside a block of white space, in black text. This was a way of linking to that.
"Some people needed coaxing, some were very awkward and shy or nervous, others were happy to just stand there and gas on to me while I clicked away. Without wishing to lapse into pseud speak I often look for what I call 'the moments between the moments'. You get these fleeting periods where people forget where they are, for a fraction of a second, and all pretence drains away. It can be revelatory. I long for those moments to emerge.
"You have to create the space for their emergence to be possible. Let silence hang in the air sometimes. You have to be ready for them, they don't last long. John Singer Sargent once said that 'to portray is to betray'. What he meant by that is that a great portrait will reveal some elementary truth of the subject. It's that I try to find."
Some of the group shots run across a number of frames. How did the process work with a large group?
"There was one enormous group that turned up at the instigation of Dr Sue Black, who is a big wheel in the Computer Science Dept at UCL. She is also heavily involved in the campaign to preserve Bletchley Park and that's how I knew of her.
"We had been following each other for a while. She suggested that there were people she followed on Twitter whom she had never met and would like to meet. She put out a series of tweets inviting her followers to join her at the shoot. Those that turned up became my followers/ees by default. Fifteen people arrived, including a 9/11 survivor, a London cabbie, the airside manager of Heathrow, a civil servant and I photographed them as a big group, across several frames in that Avedon style. Then they all went off to the pub for the afternoon.
"I also had a handful of people scheduled on the same day who were coming from different parts of the country. All of them were tweeting their journey towards the same destination. I don't know why but there was something about it that was kind of mind blowing. I think 'meta' is the word for it."
One Hundred & Forty Characters by Chris Floyd is at Host Gallery in London from 3-17 November 2011. You can see more of the pictures and read the comments of those in the pictures on Chris' blog and on Twitter @chrisfloyduk.