Two photographers seeking an MA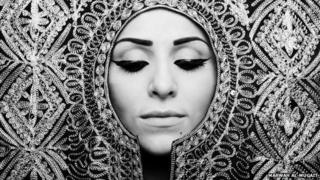 There is no set route into photojournalism. Some just grab a camera and dive in hoping to make great pictures and contacts as they go, but for others part of the journey is learning about the context and lineage of the genre so a degree or higher qualification is the chosen route.
Yet for those wondering whether to take the plunge what does this involve? For those in the UK there are many different options, from intense practical courses through to some that balance this with a critical approach to photojournalism, offering a chance to study and analyse the methods and modes of production that encase it.
I thought it might prove interesting to follow a couple of students entering one of these courses, and so approached Max Houghton, the course leader of the MA in photojournalism at the University of Westminster, to see if she could help, and indeed she could.
Max put forward a couple of names and I'm pleased to say both took up the offer, so I'd like to introduce you to Marwah Al-Mugait and Michael McGuinness.
Like many post-graduate courses this one attracts a range of students with very different backgrounds, something that can be invaluable as those looking to develop their style feed off each other.
So to kick off the series I asked Marwah and Michael to provide me with a statement on their background and what they hope to get from the course.
Marwah Al-Mugait discovered photography just over a decade ago when she began to shoot black and white photographs of her home in Saudi Arabia.
"I became inspired by the beauty and artistic elements of photography, whether it was the light, the shade or even the subject itself. My passion grew each time I discovered the marvellous changes that these elements brought to an image," Marwah said.
"I found myself constantly searching for the perfect shot, whether it was trying to capture innocence in the face of a child, history from an old man or an unforgettable moment between friends. The tendency towards capturing such moments provoked a combination of building an aesthetic point of view and executing a professional production.
"Being a Saudi photographer I was challenged by the immobility and the lack of the flexibility to practice my profession in public.
"Yet this was a great motivation for me and many other Saudi female photographers to create our own environment by establishing private studios which can give us the space, lighting and the flexibility to choose our photographic projects.
"I applied for the MA because of the combination between theory and the practice of photography at a professional level. As I read through the course content I knew at once that this is what I was looking for in order to combine it together with my existing skills. I hope my vision will be widened as the course will provide me with exposure to journalism, critical thinking and provide a full understanding of contemporary photography and photojournalism."
Michael McGuinness first became aware of the power of photography whilst working as professional chef in London in the early 1990s. "I was inspired by seeing a monochrome portrait by Bob Carlos Clarke of the chef Marco Pierre White which featured in an article entitled Bad Boy in the Kitchen in an edition of the New Yorker," Michael told me.
"I was struck by the raw intimacy and power of the image and in 2008, after 11 years of working in professional kitchens in London, and subsequently running my own small catering company in Cambridge, I decided to give it all up and commit my energy to photography," he continued.
The desire to step away from a career and start on something new, something we are passionate about, is no doubt one that rings true for many of us. But it is a huge leap and this course is the next step for Michael who has been working as a freelance photographer since stepping out of the kitchen.
"Overall I am keen to use this academic year as a means of developing my photographic practice, my professional approach to work, and my personal attitude and life skills. Through the help of my tutors, Ben Edwards, Max Houghton, Polly Braden, David Campany and other practitioners, who offer vast experience and knowledge, I am planning to build and develop a new practical and professional workflow. I will also use the assignments set throughout the year to acquire new and enhanced skills which will allow me to compete in a very competitive and tough market in London and beyond."
Michael's approach is well structured and it's going to be fascinating to see how his work develops. Michael is a member of London Independent Photography.
So there we have it, two very different backgrounds, and yet both looking to develop their own style and space in the photographic community.
We'll pick up with Marwah and Michael before Christmas once they have completed some of the modules on the course.