Protectors of sight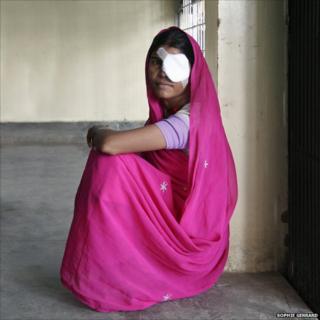 A desire to inform and a passion for people is what leads many to a career in documentary photography and Sophie Gerrard ticks all the boxes.
Today is World Sight Day so I thought it timely to take a look at her latest project which is on show at the Royal Society of Medicine in London and looks at the work of the Akhand Jyoti Eye Hospital (AJEH) in Bihar, India, which currently cures the sight of more than 100 people every day.
The hospital is located in a rural area and has a team of volunteers who seek out those suffering from cataracts and then help to bring them to the hospital for surgery, with the majority of operations being carried out free of charge.
Sophie was initially commissioned by the Savitri Trust, a small charitable organisation based in London which focuses on curable blindness and part funds the AJEH operation. She has made several trips to the region to photograph and indeed recorded interviews with those at the hospital.
Sophie studied photography at the London College of Communication (LCC) under Paul Lowe and graduated back in 2006. Prior to that she spent a brief time studying photography at Art College in Edinburgh as well as qualifying as an environmental scientist, a job she took up initially.
But it was a desire to be the person out in the field collecting the data, or as she put it, "the person in the waders," that drove her to photography.
It was the late Tim Hetherington, a visiting lecturer at the LCC, who inspired Sophie's visual style, someone she told me who was, "really generous with his advice".
Sophie loved the work of Don McCullin and yet did not want to be a war photographer, but it was Tim who showed her a way through this problem. Sophie said: "He was really influential in my visual style, especially his graffiti photographs from Liberia and the Banda Aceh story published in Foto8."
"I want my pictures to be sumptuous and suck people in. Beauty is not a bad thing, but the work has to have more than two dimensions. If you can make someone walk over to something, or stop on a page and say wow what is that? That's intriguing? And then they read the caption to the photo that says this is poison, or this is killing people, or whatever it is, it informs and tells a story."
"It is a visual language I understand, I like photographs like that and if that is how to tell a story then so be it. I could never tell a story in a single image and think it is very clever, but it is not how I understand documentary photography and not what I was taught."
Sophie's work is film based and shot on medium format, "I can see why people are passionate about reportage style," Sophie told me. "But I am terrible at it, what I am passionate about is aesthetics and composition."
Once she'd found her niche she hit the ground running and shot E-wasteland, an exploration of the growing problem of electronic waste which was also shot in India and won the Jerwood Photography Prize.
People are at the heart of all her work and her aim is to give a voice to those she meets and as part of that she has been recording interviews with those she photographs.
"It's great to give someone a voice but better to hear them," Sophie said. "It is one thing to tell someone's story, but I think it is a brilliant thing to let someone tell their own story and you put in the visuals."
Yet she is well aware of the dangers of becoming little more than an illustrator of audio. "Each part of the equation, the audio and the photographs should stand alone as well as working in combination," she said.
There are other ways to draw in those looking at the work too. In her E-wasteland project she used elements from the periodic table as part of the caption, something that informs and provides a hook in which to draw the viewer.
"You can't exist in isolation as a photographer, you have to be aware of the trends," she said. "I don't want to scream at people about what is the most important issue, but to say here is the information and I hope you walk away with a view altered, or you question something you have not questioned before."
It's an honourable approach and one that she will no doubt take in to her next project.
Here are a few shots from Sophie's E-Wasteland project.