Kate Brooks: Ten years of turmoil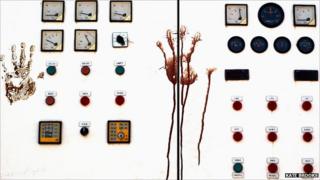 The attacks on the World Trade Center in New York on 9/11 changed many people's lives. For most of those it was something unavoidable as they found themselves caught up in events and tragedy. For Kate Brooks however it marked the true beginning of her career as a photojournalist and would shape the next 10 years of her life.
At that time Kate, aged just 23, was based in Moscow having moved there to continue working on a project begun at university. The resulting pictures of Russian orphans who were confined to asylums (External link - Warning: Some readers might find these pictures disturbing) were published around the world as part of a Human Right's Watch report entitled Abandoned by the State: Cruelty and Neglect in Russian Orphanages.
It was while in Moscow that she sat and watched the attacks on her home country and realised that this would be a moment that defined the coming years. She could see that the "United States was clearly posturing for war" and so decided it was time to move on from Moscow to be in position to cover whatever was to follow.
Kate based herself in Pakistan sensing the war in Afghanistan was coming, having set off with a small backpack of personal items, cameras, film scanner, $800 and an assignment for People magazine. I asked Kate what her plan was in those days when the world watched as the US flexed its might.
"I left for Pakistan on a four-day assignment in 2001," Kate said, "I had no idea what was to come."
"By the time I got typhoid a couple of months later, my home was in Pakistan. There was nowhere to go and there was also nowhere else I wanted to be. The biggest story in the world was happening around me. I wanted to be there to chronicle and document history. There are a limited number of world changing events in a photographer's life and the American military intervention in Afghanistan is without question one of the most monumental events that will happen in my lifetime."
Kate has just published a book looking back at the first 10 years of her work, In the Light of Darkness, which combines her pictures alongside details of her life and encounters.
The pictures are often dramatic and sometimes horrific, but in amongst those are quieter moments that tell a story just as well. One picture from 2008 shows the inside of a refrigerator whose top shelves are full of food and the lower ones hold pairs of shoes, each once covered in mud. The picture was taken in the Naher al Bared camp following fierce fighting. Many frames like this offer a glimpse of daily life and not just the headline moment.
Alongside the pictures her words add a narrative and context that pulls the journey along and provides both a glimpse of what it is like to spend many years working as a photojournalist and how her personal life is entwined with those she photographs.
I asked her if the journey she has been on is how she'd envisaged it when she set off ten years ago?
Kate told me: "As I write in the book, when my ex-boyfriend was asking in the winter of 2002 if I wanted to go onto Iraq together to cover the next war, I dismissed the entire idea, simply not believing there would also be a war in Iraq.
"Some time later when it started to become clear that the US was planning to invade Iraq, I watched with anticipation - there was no way as an American photographer that I wouldn't have been on some front of the war. Whatever that meant.
"Like most correspondents, I received chemical, biological and radiation protective training and I went into Iraq not knowing whether I would ever need to use my gas mask but was prepared to take that risk."
Kate's work soon became known around the world and the picture desks of major magazines would be chasing her to fill their pages. What was her secret?
"While many people came and went, I stayed, so I became a point person. I was also producing strong work and I had a great agent. I was the 'it girl' at the time," Kate said.
"Fresh blood is always welcome in the industry; young photographers have a fresh perspective and often work harder because they have less to lose or are less aware of what they can lose and are simply full of enthusiasm, which is why they can often be hired over more experienced photographers. Back then it was me.
"I could easily have spreads in TIME, Newsweek and The New York Times Magazine all in the same week. It was an exciting time for me professionally.
"During the Iraq invasion, I was initially time shared between two Time Inc. publications, TIME and People. Both had assigned me and although it was well before the war, my agent at the time said I had to work for People who had assigned me first. The negotiated settlement was that I was on assignment for both on a kind of time share - until one day I insisted that I only be working for TIME because I was being bounced back and forth between editors. TIME had the best war coverage of any US magazine so I wanted to be exclusively working for them."
There are many very challenging pictures in the book, some hard to look at, do you find it hard to revisit some of those moments?
"For as much writing as there is in the book, much more was written. Looking at the photographs isn't hard for me, I was there, but remembering everything I experienced was painful," she said. "It feels like a cliche to say but doing the book was cathartic. Inevitably I feel nostalgic about the early years when I was young and the world was more naïve."
Following the invasion of Afghanistan and Iraq Kate has continued to cover conflicts around the world, working in the Middle East and most recently in Libya, yet she told me that: "Producing the book was the most challenging assignment. It's required me to take off a lot of time, which on the one hand has given me time to reflect, reassess and recharge, but it's also left me feeling like my life has been suspended or on pause for the better part of a year."
Kate is dedicated to her craft and combines a knack for knowing where the story is going to be and when to stay and when to move on. She gets to the heart of the story and her pictures reveal moments of intensity that in many cases shatter lives, sometimes literally. Yet it is a dangerous profession and on the final page of her book she looks back at the decade.
She states that: "My photographs have taken on a life of their own, but the chaos and richness of all these years' lives inside of me…I definitely feel privileged though to have witnessed so much history and documented the lives of those affected.
"Have my images made a difference? At times. Occasionally that's easy to quantify, but usually it's just a notion... Every photojournalist contributes to the collective memory of human consciousness… I don't believe a single photograph is ever worth dying for, but the total of what we produce in our lifetimes justifies that risk. If we don't get close enough to see, there is no way to tell the story for those who can't see at all."
"Given the chance, I would do this journey all over again. I can only say that though because I am still alive."
Kate Brooks, In the Light of Darkness is published by Schilt Publishing and distributed by Thames and Hudson. Kate will be at the Frontline Club in London on 10 October 2011.
You can see more of Kate's work on her website.