How the broom army photo swept the web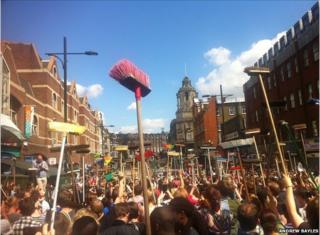 Following the riots in London on Monday, Andrew Bayles' photograph of brooms being brandished in the air became an internet sensation.
The picture shows those who turned out the next day to clean up the street of Clapham Junction and at the time of writing has had nearly 400,000 views. Here's the story behind the picture and its popularity in Andrew's own words:
"On Monday night I was at home in Wandsworth and was watching the news and could hear sirens all over the place. The riots weren't on my doorstep as I live near Wandsworth Town - but I consider the whole area including Clapham Junction my home. The riots were shocking and I was really rocked to the core by what was going on. I have some friends living on Lavender Hill and was speaking with them throughout the evening checking they were OK.
"When I found out the next day that a clean-up operation was taking place I went down to help out despite the fact that I was working from home, but a very kind boss said I could go down there. The crowds were asked to wait for quite a while and we were watching the fire engines putting out the fire at the party shop opposite Debenhams.
"When the fire engines had finished the crowds started to cheer and some raised their brooms. All of a sudden everyone was raising their brooms and I managed to get the photo on my iPhone.
"On Twitter (Andrew's user name is @Lawcol888) I follow @JohnPrescott and he had asked for photos of the clean-up operation. I had sent him an earlier picture saying that we were there and that the turn out was good. I then replied to a message he had posted moments earlier with the tag line, 'we're ready'.
"Fortunately, he reposted the image immediately. @PiersMorgan, who I also follow, also reposted the tweet and as he has over a million followers it just snowballed from there.
"The next thing I knew my inbox was full and journalists were asking if they could use my photo.
"The 'Broom Army' tag and my photo is something that I think is very special. It is a movement of solidarity to stand up for everything that is good about this country. I am very proud to have been there to help in the clean up and very proud that the image is being used countrywide to inspire further support in the clean-up effort."