Picturing our politicians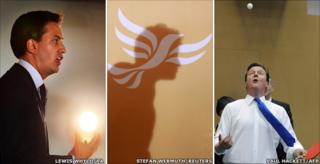 Image is everything, and for politicians this is doubly true. From the stage managed photo-op to information leaked through photographs of documents held in their hands, politicians have to be conscious of the way they project themselves at every minute.
Following a comment from a reader about a picture we had published of Labour leader Ed Miliband which they felt was inappropriate for a political news article and a series of pictures published in the Daily Mail I thought I ought to explore the way our politicians are pictured.
Still photography's greatest strength is its ability to freeze a moment allowing the viewer to contemplate a split second in great detail, yet this ability is also its weakness.
The smallest of gestures can be caught, emphasised and used to make the subject look a little foolish or off message. At the other end of the scale we can take a photograph too seriously and read far more into it that it may deserve.
Yes there are of course pictures that reveal a hidden truth or lead to changes in society, but not all pictures are worthy of such analysis. A sideways glance caught on camera may be inappropriate, but then again it may not. Once the world is flattened to two dimensions it can be hard to disentangle what is really going on.
For politicians, though, little of this matters as it's all about a desire to put across their message. So Tony Blair ensured he was seen with cool celebs, William Hague donned a baseball cap and even Harold Wilson was pictured with The Beatles, though not all of these had the desired effect.
There is of course a level of responsibility that falls to those publishing the pictures, and we at the BBC are always aware of this and try to select the right picture for each story. But of course we can't please everyone and often receive comments to that effect.
It's not always easy as there can be limited choice at times and using a bland head shot of a politician on every political story would lead to an insipid website, though there are some who might argue that is exactly what we do.
Of course we do not want to make them look foolish, but we do want to use pictures that have impact and attract the reader to the story.
One photographer who is always looking for the offbeat moment is Leon Neal who works for AFP agency, which syndicates its picture widely. He also writes a cracking blog. I asked him about his approach:
"When shooting a political press conference I try to remember that the agency's clients may have differing opinions on the beliefs and comments of the politician so approach my coverage with an open-mind.
"While capturing the straight 'as it is' pictures of a person in a suit speaking to a room of journalists, I also look out for anything that will either make the person look strong and powerful, but also weak and foolish. Despite the claims of impartiality, the newspapers and online news sources will often have their own bias so will be looking for the picture that fits their brief.
"In the UK, there is somewhat of a tradition of poking fun at politicians so even when the public is on their side, a well-timed picture catching that embarrassing moment will always get used somewhere. A Private Eye front page has a definite badge of honour to it," says Neal, referring to the British satirical magazine.
This "tradition" is not something you will find in the US. What many would see as a fairly innocuous picture of John Boehner received a fair bit of outrage from readers of the Plain Dealer in Ohio, yet the reason for publication was simply one of meeting a deadline.
It's not just mainstream media though. There are also plenty of blogs, some with a political agenda and others just looking for fun moments to draw readership, with some more than happy to highlight the unflattering moments.
Former Labour PM Gordon Brown hired an ex-BBC producer to help ensure he wasn't photographed in a bad light, but it's not always that simple and press photographers are by nature a creative bunch.
Yet oddly it's the other Miliband, David, whose gesture with a banana will always be remembered in the corridors of Westminster. But to be fair, being pictured carrying a banana is something few of us could do with any real grace
For PM David Cameron it's a different story. He, like Blair before him, understands the power of photography. Both attempted to hire an official press photographer on the public payroll and failed, perhaps inspired by how US presidents have had their own photographer for more than 50 years now.
Yet both of them have a picture from their past they would rather went away. For Mr Cameron it is a picture of him with fellow members of the member of the exclusive Bullingdon Club whilst at Oxford University, a photograph that was withdrawn from use some years ago by the small Oxfordshire photography company that owns the rights, and is sometimes used by his political opponents to suggest he is out of touch with ordinary voters.
For Former Labour PM Tony Blair it's a photograph of him aged 21 in which he appears to be making a rude gesture. In a 2007 interview with Oxford university student magazine Isis, Mr Blair said:
"I am always rather wary about discussing my time at Oxford because it is invariably coupled with a photograph of me with long hair wearing a ridiculous boater - a picture that I wouldn't mind if I never saw again. I must have thought I looked cool at the time but I have to admit that's not necessarily how it looks 30 years later."
One thing is certain, anyone caught in the viewfinder of so many photographers is sure to come a cropper once in a while, and for photographers looking to make their pictures stand out from the crowd who can blame them if they seek to find those interesting moments that only photography can reveal.