iPhone photo app aims at relief effort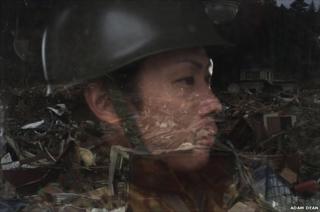 Photographers are sometimes accused of preying on their subjects, and those covering news events asked what they give back to the lives of those they document. For some it's a case of recording events for the history books, others will note the need to witness events as an outsider, while others will immerse themselves in a cause and become part of the event.
Following the earthquake and tsunami that struck Japan on 11 March a number of photographers who headed to the region to record the aftermath found devastation on a scale many had not seen before. They also found people willing to help them and even in times of terrible hardship to share something of their lives.
Those photographers have since got together and created an app for the iPhone and iPad that aims to raise money for the relief effort.
The app contains work by 14 photographers including Adam Dean, Dominic Nahr, James Whitlow Delano and Paula Bronstein, each of whom has added written comments and a spoken message alongside their photographs.
Another of the photographers involved is Jake Price whose pictures from Japan were published on my blog in March, as well as an audio slideshow of his time in the earthquake zone.
I asked Jake why he had decided to get involved in this project:
"Whenever I go to cover a situation where people are in dire need it's always my hope that my photos will make a difference and compel those outside to help. So when I was contacted by the 3/11 Project I joined readily.
"It was a perfect fit for what I was trying to achieve in that it helped bring aid to those who I was covering (the money from the app will go to the Red Cross of Japan) and got the word out about what people where doing to continue on with their lives.
"It's also just really great to be a part of the project because it's such an innovative and new way to tell stories. Although the story has fallen off the front pages, indeed receives hardly any attention at all anymore, those affected by the tsunami are still facing enormous hardships having lost nearly all that was dear to them.
"The photos in this project are more relevant than ever—they are a testament to the quiet strength that keeps people going from day to day."
For more information you can visit their website.