Get BBC News on your mobile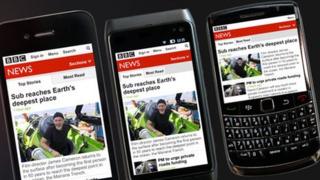 BBC News is available on mobile phones and other wireless handheld devices.
To get the latest news and sport from the BBC News website, go to bbc.com/news on your mobile device.
You can then save this page as a bookmark or favourite, so you can find it again easily.
The site is designed to work on a range of mobile devices and screen sizes, whether your phone is a touchscreen one or whether you use a keypad or trackball.
When you browse the mobile site, what you see will be tailored to the device you have in your hand, for example the way you move around the news sections and the number of images you see.
We've made it easy for you to skim through the news headlines and summaries so you can easily get updated on the stories of the day.
Features and analysis stories are showcased throughout the site and we are displaying the Most Read articles, so that you can see what stories are popular right now.
The site offers coverage of live news stories for all mobile users, giving you an easy way to access quick updates around a major news story. The live page format offers short-form updates related to big stories as they unfold, for example on stories like the Budget and global news events.
BBC News apps: iPhone, iPad and Android
The BBC News app is now available for Android smartphones and tablets, as well as for iPhone, iPad and iPod Touch.
The app is free to download. Go to Google Play or the Apple app store to download the official BBC News app.
Get the latest and breaking news from the BBC and our global network of journalists.
Stories are arranged by geographic region and category including Business, Technology, Science & Environment and Sport.
The app offers stories and video, and you can personalise the homescreen by adding and removing news categories to suit your interests.
You can also listen to news programmes and bulletins from the BBC World Service including World Service live radio, and you can watch international news summaries from BBC World News television, updated 24 hours a day.
The BBC News apps are free. Like the BBC News website, outside the UK the app is funded by advertising.
Send pictures and videos to BBC News
You can send us pictures and short video clips of news events you have captured on your mobile phones.
Details on how to send us your pictures and videos
Listeners in the US
You can listen to BBC World Service Radio from your phone anywhere in the US (the service is free but please check your phone plan for any call charges).
BBC World Service in English is now available live to listeners in the US 24 hours a day, every day, by calling 1-712- 432-5335.
News from BBC Arabic can be accessed by calling: 1-712-432-7877
News from BBC Bengali can be accessed by calling: 1-712-432-6397
News from BBC Burmese can be accessed by calling: 1-712-432-6398
News from BBC Dari can be accessed by calling: 1-712-432-6396
News from BBC Hindi (long bulletin) can be accessed by calling: 1-712-432-6985
News from BBC Hindi (short bulletin) can be accessed by calling: 1-712-432-6358
News from BBC Indo can be accessed by calling: 1-712-432-6394
News from BBC Persian can be accessed by calling: 1-712-432-6359
News from BBC Somali can be accessed by calling: 1-712-432-2888
News from BBC Swahili can be accessed by calling: 1-712-432-6393
News from BBC Urdu can be accessed by calling: 1-712-432-5395