Clampdown on social media adverts for risky hay-fever jab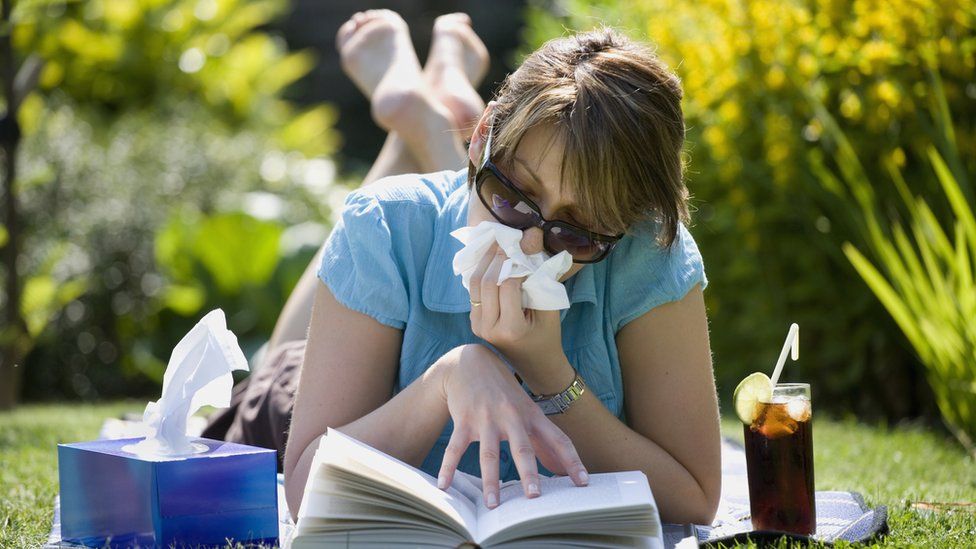 Companies will be prosecuted if they continue to advertise a prescription-only hay-fever drug on social media, the UK government says.
Kenalog is a steroid injection that the NHS stopped offering years ago because of the risk of serious side effects.
Some private medical and aesthetic beauty clinics have been told to remove promotional posts for the jab from Facebook and Instagram.
Even including a syringe emoji would be a breach of the law.
Kenalog is not licensed for the treatment of hay-fever in the UK, although it is licensed for some other conditions on prescription.
Some beauty and aesthetics clinics, however, are offering it to hay-fever sufferers.
It causes sneezing, coughing, a blocked nose and additional problems for those with asthma.
For some, these treatments don't have any effect, which is prompting some people to try Kenalog instead.
It has not been approved for hay-fever treatment by the NHS because its benefits do not outweigh the risks of using it.
Steroids are anti-inflammatory medications used for asthma and arthritis but come with side effects such as weight gain, sleeping difficulties and sometimes anxiety or depression.
The Committees of Advertising Practice (Cap) have worked with the Medicines and Healthcare products Regulatory Agency (MHRA) to issue the enforcement on Kenalog advertising.
It must not be advertised anywhere, including on social-media posts or on websites, as a treatment for hay fever in the UK or referred to as a "hay-fever injection" or "hay-fever jab".
Companies have until the end of August to make these changes before being referred to the MHRA for further enforcement action.
Claire Tilstone, from the MHRA, says "the advertising of prescription-only medicines in the UK is banned under UK advertising law" and encourages anyone who sees a clinic advertising Kenalog to report it to the agency or to Cap.
Allergy UK has previously said the steroid injection is not recommended as it is a high-dose steroid given by an intramuscular injection, and once injected, the steroid cannot be removed - and it comes with "a high side-effect profile".