Dame Deborah James death prompts more bowel-cancer checks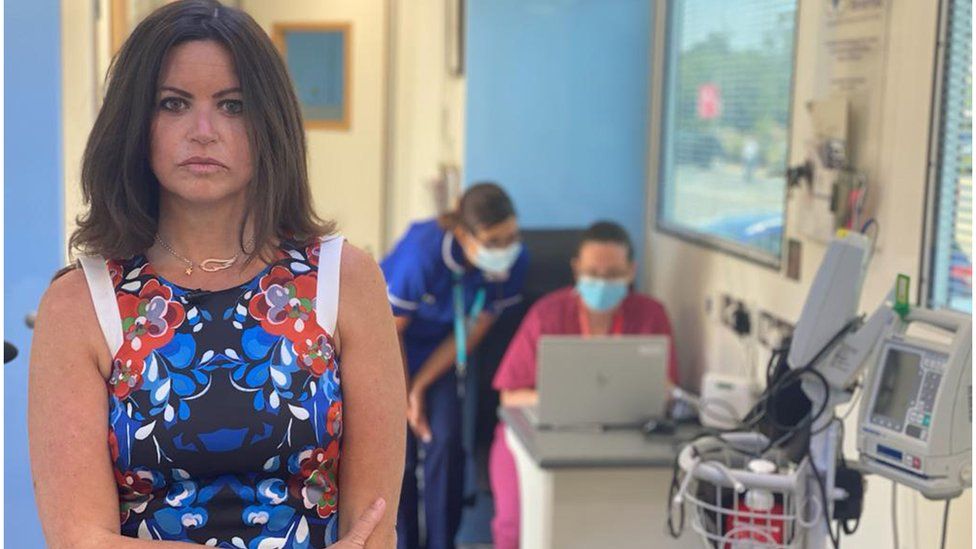 Thousands more people visited their bowel-cancer symptoms page this week following the death of Dame Deborah James, according to NHS figures.
The number of page visits rose from 2,000 on Tuesday to 23,000 on Wednesday, after the family announced her death on Tuesday evening.
Dame Deborah, who was 40, had bowel cancer since 2016.
She dedicated the latter years of her life to talking about cancer and urging people to check for symptoms.
NHS chief executive Amanda Pritchard called her "an inspiration to us all".
"People often don't feel comfortable speaking about their cancer diagnosis and treatment but Deborah bravely speaking out about her personal journey has prompted thousands more people to check the symptoms," she added.
Health and Social Care Secretary Sajid Javid said Dame Deborah had left "an incredible legacy".
"These figures reflect the powerful and life-saving impact she has had - inspiring countless people across the country to get informed, get checked and speak up," he said.
Dame Deborah, whose damehood was delivered personally by Prince William at her parents' home in May, became a cancer blogger and podcaster after her diagnosis.
The former deputy head teacher was one third of the BBC You, Me and the Big C podcast and announced in May she was receiving end-of-life care.
She raised more than £7m for Cancer Research and regularly shared information about bowel cancer and how to spot it.
Other high-profile figures, including reality TV star Jade Goody, who died in 2009, have helped spread the message about checking for cancer.
Referrals to breast-cancer clinics also more than doubled in the UK after actress Angelina Jolie, who was considered at high risk, announced she had had a double mastectomy.
How do I spot bowel cancer?
There are three main things to look out for:
blood in your poo that happens for no obvious reason - it may be bright red or dark red
a change in how you poo - such as going to the toilet more often or your poo becoming runnier or harder
feeling lower-tummy pain or bloating, when your belly feels full and tight
There may be other symptoms too, such as:
losing weight
feeling you haven't emptied your bowel properly after going to the toilet
feeling more tired or dizzy than usual
Who gets bowel-cancer screening checks?
Regular bowel-cancer screening is available to everyone aged 60-74.
This programme is expanding gradually over four years to include everyone aged 50-59 in England. The expansion began in April last year.
People in England aged 60-74 who are registered with a GP are automatically sent an NHS bowel-cancer screening kit every two years.
In Scotland, screening starts from the age of 50.
In Wales you will be invited to take part in bowel-cancer screening if you're aged between 58 and 74.
In Northern Ireland people over the age of 60 are invited to take part.
If you are outside this age group, you should still be aware of what bowel-cancer symptoms are and visit your GP if you have any concerns.