Help 999 teams find missing heart defibrillators
By Michelle Roberts
Digital health editor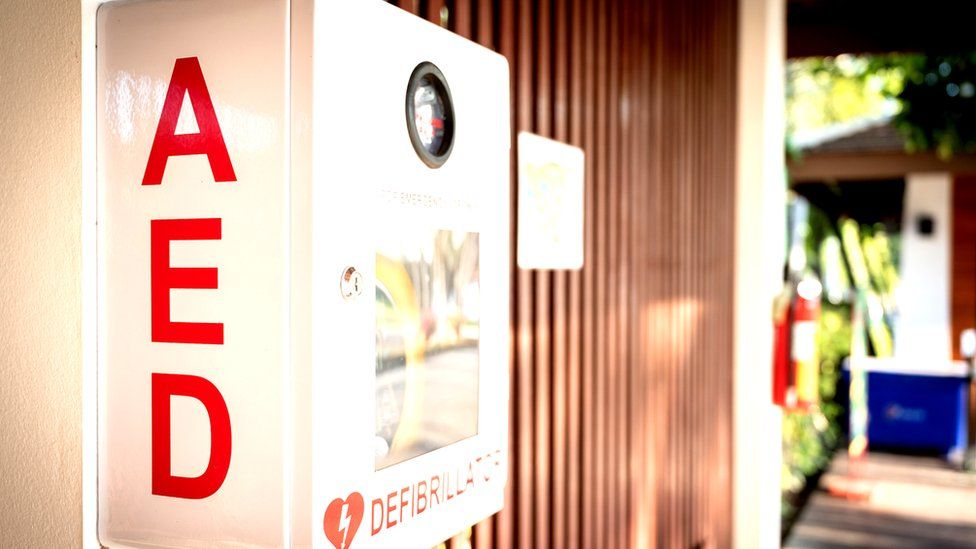 Ambulance services are appealing for the public's help to find 70,000 defibrillator devices scattered in community locations across the UK.
The machines can be a life-saver for people having a cardiac arrest.
Most of the devices, which deliver an electric shock to get the heart pumping properly, will be in public places such as sports clubs and supermarkets.
The emergency services, helped by Ordnance Survey and the British Heart Foundation, want to map the locations.
It would mean 999 call operators could direct people to their nearest defibrillator to fetch and use before an ambulance can arrive.
The Circuit is an online database that the emergency services use to log precisely where the defibrillators are. It's updated every minute so that the information is timely and correct.
The location of 30,000 community defibrillators is known, but an estimated 70,000 devices are not yet registered - which is where the public can help.
If you are in charge of an organisation that has one, make sure you register the device with The Circuit.
Ordnance Survey can give it a Unique Property Reference Number to identify the precise location.
This is far more accurate than postcodes and should help save more lives.
Speedy care is vital if someone is having a cardiac arrest.
Every minute without CPR (cardiopulmonary resuscitation) and defibrillation reduces the chances of survival. Using a defibrillator can double the chance of survival in the event of a cardiac arrest.
Only do it if someone is:
unconscious and not breathing
unconscious and not breathing properly
If someone is unconscious but they're breathing normally, call 999 and put them in the recovery position.
Don't waste time checking for a pulse - if someone is unresponsive and not breathing or not breathing normally then call 999 and start CPR.
Many defibrillators are never used because people don't know where they are or how to access them, says the ambulance service.
There are more than 30,000 cardiac arrests in the UK each year.
Defibrillators are very easy to use - you don't need training and can follow the clear instructions on the device. It checks the heart rhythm and will only tell you to give a shock if it is needed. You can't shock someone accidentally.
Many cardiac arrests in adults happen because of a heart attack. This is because a person who is having a heart attack may develop a dangerous heart rhythm, which can cause the heart to stop pumping blood around the body.
A heart attack and a cardiac arrest are both emergency situations. Call 999 straight away. A heart attack occurs when part of the heart muscle suddenly loses its blood supply.
Sue Hampshire from Resuscitation Council UK said: "Sudden cardiac arrest can happen to anyone at any time. Currently, less than one in ten people in the UK survive a cardiac arrest out-of-hospital. The chance of survival from out-of-hospital cardiac arrest can be increased two-to-threefold by the immediate provision of bystander CPR and defibrillation, that is why it is essential all devices are registered on The Circuit. We urge those that have not registered to do so immediately so many more lives can be saved."
Related Internet Links
The BBC is not responsible for the content of external sites.